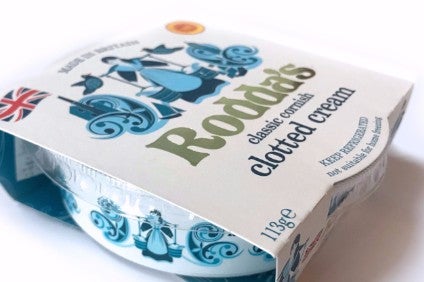 Cornish clotted cream firm Rodda's has teamed up with UK dairy export specialist Somerdale International to target the Australian market.
Rodda's, said to be the oldest and largest clotted cream company in the world, revealed the first deliveries of its Classic Cornish Clotted Cream product are set to reach the shores of Australia this week.
It will be made available to retailers, delis, hotels and cafes, initially in New South Wales and Victoria and, in due course, to distributors in Western Australia and South Australia.
Somerdale, which is based in Wellington in the UK county of Somerset, is in discussiona via its Australian arm with a number of retail and foodservice customers about their stocking the clotted cream.
The Rodda family have been making Cornish clotted cream – which has protected designation of origin (PDO) status – on the same site for five generations.
To ensure that the clotted cream arrives in Australia in perfect condition it will be frozen and then defrosted before being sent out to customers and distributors.
It will be available in a range of pack sizes including 20g portions ideal for use on airlines, cruise ships and in high-end hotels and cafes, 113g retail packs for delis and retailers and 907g food service pack for distribution to hotels, restaurants and cafes.
Di Jones, head of Somerdale's Australian operations, said: "The quality and taste of Rodda Cornish Clotted Cream combined with its PDO provenance means that there is nothing quite like it in Australia.
"At Somerdale, we are seeing a growing demand in Australia for premium products with a distinctive taste and authentic provenance. Although customers will naturally look to purchase Australian produce if they can, they are willing to try imported products if there isn't a comparable locally produced product."
Rodda's managing director, Nicholas Rodda, said: "When my great-great-grandmother started making Cornish clotted cream in her farmhouse kitchen over 125 years ago the idea of sending our Cornish delicacy to Australia would be something she would never have dreamed of."
Somerdale opened its permanent office in Australia in 2012 to enhance its strategic distribution partnership with F. Mayer Imports.
It distributes through the Mayer supply chain a selection of British cheeses and dairy products to a broad range of Australian retail customers including Woolworth, Coles, Aldi and Costco.