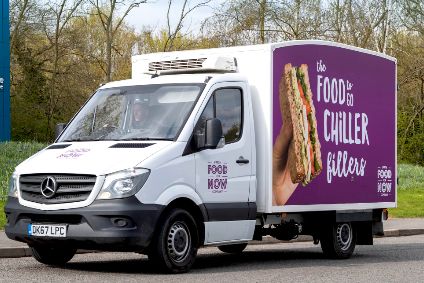 Samworth Brothers, the UK food manufacturer, has launched a new food-to-go distribution business.
Called Fresh Food For Now Company, the new business – essentially a re-branding and extension of its existing Ginsters van sales operation – will operate across 16 sales offices and complete 20,000 deliveries a week, supplying forecourts, motorway service stations, student union shops and convenience stores throughout the UK.
Samworth Brothers, based in Leicestershire in the East Midlands, manufactures a wide range of food-to-go products across brands including Ginsters, Soreen, West Cornwall Pasty Co. and Pro2Go, with the latter from its sports nutrition subsidiary SCI-MX.
The company said the venture marks the "evolution from the long-established Ginsters van sales operation into a new brand, offering a broader range of food-to-go products from the Samworth Brothers' brand portfolio".
To further support retailers, Fresh Food For Now Company will also be launching a new website, offering advice and support for retailers. Customers will soon be able to use the website to submit orders.
Anthony Johnson, managing director of Fresh Food For Now Company, said: "Our new flexible ordering system and in-store merchandising service will cater to the needs of all retailers, and ensure we are getting the right products in the right stores."
Fresh Food For Now Company will be rolling out from 6 May.