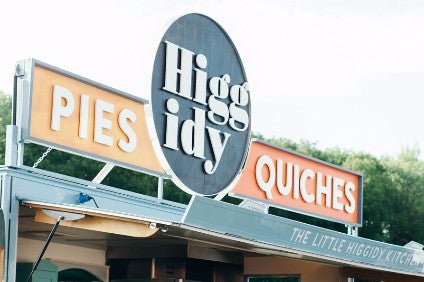 UK food group Samworth Brothers has upped its stake in local pie and quiche maker Higgidy to become the majority owner of the business.
Samworth, based in Leicestershire in the English Midlands, told just-food it now has a shareholding of more than 60% but said it would not be disclosing any further financial details.
The company took a minority stake in Higgidy, based in Sussex in southern England, in June 2019 with an option to increase its holding in the future.
Now Samworth has taken up that option and increased its stake to a controlling one.
Samworth Brothers chief executive Flor Healy said: "Over the past 17 years the Higgidy team have created a much-loved and successful premium consumer brand. Samworth Brothers is delighted to be part of the next chapter in Higgidy's development. The brand fits well with our own strategic priorities in terms of owning distinctive brands, strength in savoury pasty and food-to-go and the further development of our plant-based business."
Higgidy CEO Mark Campbell said: "We entered into the partnership with Samworth Brothers because of shared vision and values and the last 18 months have proven the wisdom of that decision, with the Higgidy brand seeing over 30% growth."
Higgidy will remain a separate business with a separate leadership team and its own manufacturing facilities.
Campbell added: "The Samworth Brothers and Higgidy boards recognise that it is important to nurture the entrepreneurial culture at Higgidy so while Higgidy will enjoy the support of the wider Samworth Brothers group we will continue to drive the Higgidy brand from our expanding manufacturing base in Shoreham-by-Sea."
Samworth already has pies and pasties in its portfolio. It owns Cornish pasty brand Ginsters and pork pie specialist Dickinson & Morris.
In August it picked up the Urban Eat sandwich business from the now defunct Adelie Foods.
Higgidy was founded by Camilla Stephens in 2003 with an ambition to bring innovation to the pie category. It has grown from a kitchen start-up into a well-known brand. Its product range which has a particular focus on vegetarian lines.