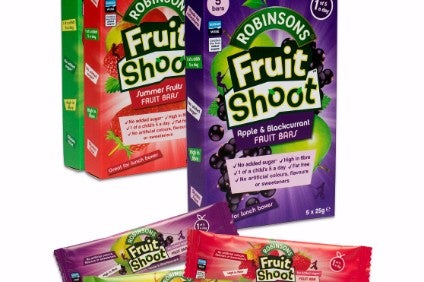 UK jam and marmalade maker Streamline Foods is producing snack bars based on Fruit Shoots, the kids' soft drinks brand marketed by Britvic.
Cambridgeshire-based Streamline, which specialises in reduced sugar products, is to manufacture and market the bars on Britvic's behalf.
The Fruit Shoot range of five different flavoured fruit bars is available in Tesco stores nationwide from today (18 September).
The bars are free from added sugar, artificial colours, flavours or sweeteners and are high in fibre. Streamline points out that each bar contains more than 99% fruit and provides one of your five a day.
The Fruit Shoot fruit bars have also been certified by the international authority for sugar claims Sugarwise.
The range is made up of five flavours; Apple, Apple & Blackcurrant, Summer Fruits, Peach & Mango and Tropical Fruit. The RRP for 5 x 25g bars is GBP2.29 (US$3.10).
Séverine Brault, marketing manager at Streamline Foods, said: "Fruit Shoot Fruit bars are a win-win for both kids and parents. Parents will be able to give their children a healthier and convenient snack from a much-loved brand and children will be happy to open their lunchbox to find something they want to eat."
It is not the first time Streamline and Britvic have teamed up to produce edible products based on the Fruit Shoot drinks. In 2014, they launched a Fruit Shoot range of squeezy jam.