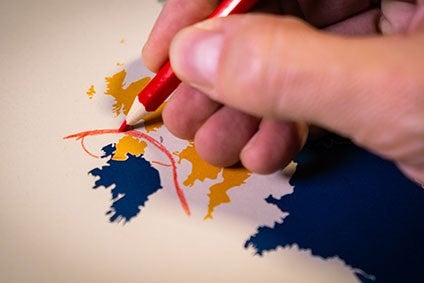 The British government has announced a four-month extension to the waiver of post-Brexit Irish Sea border checks on agri-food products entering Northern Ireland from the rest of the UK, a move that has been deemed illegal by the European Union.
The grace period for live animals, or animal or plant-based products, will be extended to 1 October from the 31 March deadline initially agreed under the so-called Scheme for Temporary Agri-food Movements to Northern Ireland, Brandon Lewis, the UK' Secretary of State for Northern Ireland, said yesterday (3 March). It is understood checks will then be introduced in phases.
"For supermarkets and their suppliers, as part of the operational plan the UK committed to at the UK-EU Joint Committee on 24 February, the current Scheme for Temporary Agri-food Movements to Northern Ireland (STAMNI) will continue until 1 October," he said in a statement.
Under the Northern Ireland Protocol agreed as the UK exited the European trading bloc, Northern Ireland remains part of the EU single market, which has created a trade border with the rest of the UK.
The BBC has reported European Commission Vice President Maroš Šefcovic has said the extension amounts to "a violation of the relevant substantive provisions" of the Brexit deal under the Northern Ireland Protocol.
He said the EU would respond in accordance with the "legal means" established by the Protocol and the wider Brexit deal.
After discussions between Šefcovic and Lord Frost the UK's Cabinet Office minister with responsibility for EU relations, London issued a statement. Lord Frost, the UK government said, had explained to his EU counterpart "the measures announced today, following official-level notification to the Commission earlier this week, were temporary technical steps".
In its statement, the UK government said the moves "largely continued measures already in place, to provide more time for businesses such as supermarkets and parcel operators to adapt to and implement the new requirements in the Protocol".
Lord Frost had told Šefcovic "such operational measures were well precedented in other international trade arrangements, and that they were entirely consistent with our intention to discharge our obligations under the Protocol in good faith", the statement added.
Meanwhile, Irish Foreign Affairs Minister Simon Coveney said the UK government's decision undermined a commitment to the implementation of the Protocol and described the unilateral decision as "deeply unhelpful", the BBC reported.