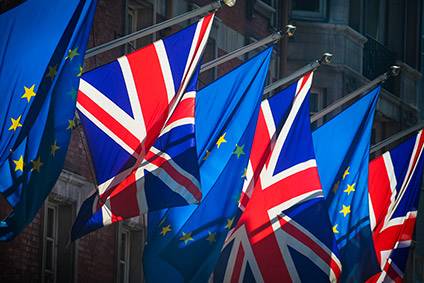 A Brexit report from the United Nations warns the UK is at risk of losing GBP16bn (US$19.4bn) in EU exports in the event of a no-deal departure from the bloc.
The United Nations Conference on Trade and Development (UNCTAD) says the potential GBP16bn in export losses from a no-deal Brexit amounts to 7% of all UK exports to the EU.
The UN body added that "losses would be much greater because of non-tariff measures, border controls and consequent disruption of existing UK-EU production networks".
It continued: "The nearing Brexit deadline, along with increased uncertainty on outcomes, is problematic for UK exporters, and policy solutions are likely needed for at least short-term relief. Ultimately, it will require progress on rolling over current deals or finding new relationships with other partners."
UNCTAD says most of the export losses would be centred on motor vehicles (GBP5bn), animal products (GBP2bn), and apparel and textiles (GBP2bn).
Outside of the EU, UNCTAD says the UK needs to reach trade agreements with countries that grant preferences to European Union nations in order to maintain preferential market access.
"Although roll-over trade deals have been agreed with several countries, about 20% of UK non-EU exports are at risk of facing higher tariffs from countries such as Turkey, South Africa, Canada and Mexico," it said.
Citing its own research, UNCTAD says if these agreements are not concluded by exit day, it would cost the UK economy almost GBP2bn in exports.
"Sectors such as apparel, textiles, motor vehicles and processed food products would face higher tariffs, with losses as high as GBP750m in the motor-vehicles sector."
The House of Commons, the UK's lower legislative house, last night (3 September) backed a move by MPs opposed to a no-deal Brexit to take control of the agenda in the chamber.
MPs against a no-deal Brexit are to table a bill to try to block any attempts by the UK government to push through such a departure. Through the bill, the MPs are seeking a further delay to Brexit.
Since Boris Johnson became Prime Minister, the UK government has consistently stated it wants to strike a withdrawal agreement with the EU but has also underlined the country will leave the bloc on 31 October with our without a deal.
Last night's vote prompted Johnson to say he would call for a General Election if he was forced to request an extension to the October deadline.
Addressing the House of Commons last night, Johnson said the bill requesting a delay to the UK's departure from the trading bloc would "hand control" of Brexit negotiations to the EU and bring "more dither, more delay, more confusion". He told MPs he had no choice but to press ahead with efforts to call an October election, adding: "The people of this country will have to choose."