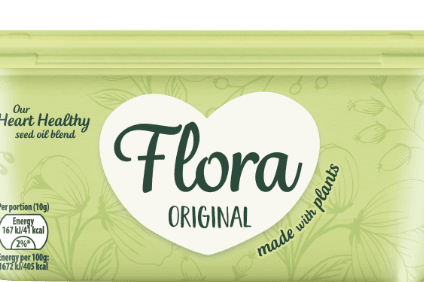 Unilever has accepted an offer for its spreads arm from private-equity firm KKR.
The buy-out house has tabled EUR6.83bn (US$8.04bn) for the assets, which are largely based in North America and Europe and home to brands including Country Crock and Flora.
Unilever announced in April it was looking to exit a sector that, while central to the origins of the FMCG giant, has been a challenging place to do business in recent years.
In mid-2015, Unilever moved to put the spreads business into a standalone operating unit to "accelerate its transformation and return it to growth".
The unit saw its sales fall 5% in 2015, with Unilever pointing to "competition in developed markets", although the company said the unit did gain share.
Sales declined again in 2016. Unilever said it had seen "modest" growth in emerging markets that had been "offset by the continued but slowing
decline in developed markets".
In the first nine months of this year, Unilever reported its company-wide turnover had been 3.1% year-on-year – or 3.5% excluding spreads. In the third quarter, spreads sales fell 2%, although Unilever said that was a "further improvement on previous quarters".
September saw Unilever offload some of its spreads assets, with a deal to sell the division's operations in southern Africa to South Africa-based investment firm Remgro, which has a portfolio that includes a majority stake in local food group RCL Foods, already a notable player in the category locally.
A clutch of private-equity firms had been reported to be interested in acquiring the rest of the business.
Announcing the deal with KKR today, Paul Polman, Unilever's CEO, said: "After a long history in Unilever we decided that the future of the spreads business would lie outside the group. The announcement today marks a further step in reshaping and sharpening our portfolio for long-term growth. The consideration recognises the market-leading brands and the improved momentum we have achieved. I am confident that under KKR's ownership, the spreads business with its iconic brands will be able to fulfil its full potential as well as societal responsibilities."
The deal remains subject to regulatory approval and employee consultations in some markets. Last month, UK trade union GMB called on the new owner of the spreads business to "respect Unilever's heritage and safeguard jobs".
Johannes Huth, the head of KKR's operations in the EMEA markets, said: "The strength of the portfolio of consumer brands in spreads provides a firm foundation for future growth. We look forward to deploying our global network and operational expertise to support the business's growth ambitions, while continuing to follow Unilever's responsible sourcing policies, including working towards the goal of sourcing 100% sustainable palm oil by 2019."