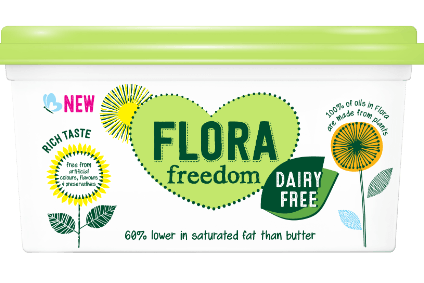 Unilever is focused on preserving the value of its Flora-to-Becel spreads unit and investing the cash from the under-pressure division into other parts of its operations – but will continue to look at options for the business were sales to remain in decline.
Two years ago, Unilever announced a move to put its spreads business into a standalone operating unit – Baking, Cooking and Spreading – that would report into the consumer goods giant's wider food business in a bid to try to get the division growing.
Sales, however, have remained under pressure and analysts have speculated about the future of the business, which also includes Blue Band and Rama, weighing up it whether it could be put for sale.
Ahead of Unilever's annual investor day yesterday, some analysts were looking for the company to provide an update on the future of the unit.
CFO Graeme Pitkethly admitted spreads continued to be a "drag" on Unilever's wider food operations but said: "Spreads is a highly cash-generative business. With the new BCS unit in place for more than a year, we've been taking more cost and driving up margin further – it's now over 20% – while investing to improve consumer perceptions of the brands. We'll continue to focus on preserving the value of these strong cash flows and investing them for greater return in our business."
When one analyst suggested Pitkethly's comments indicated the unit would not be sold, the Unilever finance chief replied: "I didn't intend to send any signal regarding optionality for the business. We won't speculate but we continue to review very widely all the options for the business which I think everybody knows and appreciates."
Addressing analysts at the end of Unilever's investor day, which was held at the company's plant and R&D centre in Port Sunlight in the north west of England, CEO Paul Polman said the company would not simply "get rid" of the spreads unit and said there were "pockets" of the business where it was "responding". However, Polman said Unilever would continue to look at the options for the business if sales carried on declining.
"Putting it in as a separate business unit has actually been the right decision. It's been a safe decision. We were able to take costs out that we had probably been incurring but that were not needed. By making this business independent, we've exposed that. We've been able to push margins above 20%. From a cash flow point of view and from a contribution point of view, it continues to be an attractive business for us. At the same time, we need to look at opportunities if the business continues to go down," Polman said.
"Increasingly, we see pockets where the business is responding, especially around the plant-based initiatives. But at the same time, we will continue to look, as this business becomes smaller by definition, we will continue to look at other options. But I want to say once more – and hopefully for the last time – these options need to make sense for the shareholders. They cannot just be options of let's get rid of something we don't like. That's not how we run our company. That's not how we built this company into what it is today. And it's not what you should be doing in other company other. You'd be grossly irresponsible as agents for your owners to even demand that. A little bit of a sophisticated approach of thinking about this is absolutely important. If the moment comes where we think value can be created outside, we owe it to anybody to pursue that option. But we simply haven't found that yet."
In a note to clients this morning, Jefferies analyst Martin Deboo, who attended the event, said: "There was no get-out-of-jail free card played on spreads, as we expected. The objective is to preserve value. This would appear to resolve into an ambition to limit sales decline to low single digits (from the current minus five to minus seven per cent or so) and to harvest cash to compensate, following a capex bulge. A non-trivial challenge to our eyes, but one which Unilever have little choice but to accept. Strategic buyers are in short supply and we think that a listing simply isn't viable with the top line in such poor shape."