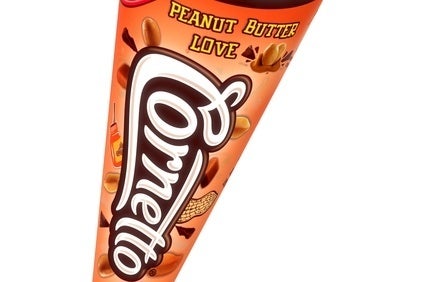 Unilever is looking to breathe fresh life into Cornetto sales in the UK with new products and a push on price as part of this year's NPD for its ice cream portfolio.
Cornetto sales are worth GBP38m (US$58.6m) a year in the UK but have been flat over the last 12 months. To try to revitalise the brand's sales, Unilever is launching Cornetto Love Crunch and looking to widen the distribution of GBP1 price-marked packs of standard Cornetto lines, including Strawberry and Classico.
The company is trying to position Cornetto as an alternative snack to crisps and confectionery. Unilever is targeting 16- to 25-year-old consumers, who it said spend just short of GBP6 on snacks a week and two-thirds of whom snack every day.
Cornetto Love Crunch are ice creams topped with a chocolate disc. Unilever is launching two flavours – Peanut Butter Crunch and Cookies 'n' Dream. "These are flavours that are key for teen consumers and we know work in the snacking market already," Sarah Atkins, brand manager for Cornetto, said.
Unilever is also extending last year's trial listings of price-marked multipacks of Cornetto, which "drove 70% more footfall to freezers" at an unnamed retailer, Atkins said.
Unilever's marketing plans for Cornetto include TV ads for the first time since 2012. "[This is] the biggest plan we've ever had on Cornetto," Atkins said. "We've set ourselves the ambition to double our retail sales value over the next five years and be an GBP80m brand by 2020."
The world's largest ice cream maker has also worked on its Magnum, Ben & Jerry's and Wall's ranges for the UK.
Unilever has reformulated its Wall's Kids Mini Milk line with a new recipe to ensure it meets UK government guidelines on fat, salt and sugar. It is also added a product to the Wall's Kids range – the candyfloss-flavoured ice cream stick Music Tornado.
A month after a launch in the US, the company is launching three Ben & Jerry's Cookie Cores ice creams in the UK, an extension of the Soft Cores line introduced to the market in 2012.
Two limited-edition Magnum flavours – Magnum Pink Raspberry and Magnum Black Espresso – will be launched this summer. Citing Nielsen data for the year to 24 January, Unilever said Magnum's annual sales were worth GBP147m in the UK, up 6.1% on the year.