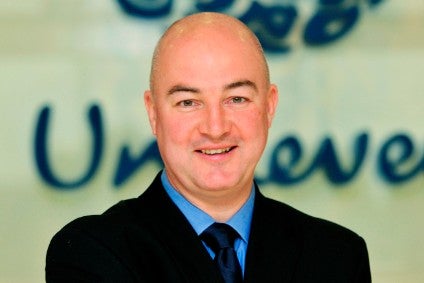 Unilever is the latest global consumer packaged goods firm to reveal pricing actions to offset the rising cost of commodities as the finance chief for the ice cream-to-condiments maker said inflation levels are the worst it has seen in "about a decade".
Addressing analysts today (29 April) after reporting first-quarter results, CFO Graeme Pitkethly said Unilever has "been very active already in stepping up pricing – you saw pricing of 1% in Q1 and we do expect to increase that further from here. The business is very focused, market by market, on recovering those commodity costs."
Pitkethly laid out a forecast for low double-digit inflation through the first half of its financial year and expects an acceleration to "low-to-mid-teens" in the back half. "The commodity inflation that we are seeing is impacting all businesses," he said, referring to its three divisions of food and refreshment, beauty and personal care, and home care.
Splitting the 1% price increases across the group by region, Asia, Africa, the Middle East, Turkey and Russia – all one reporting division for Unilever – saw a rise of 1.2% and the Americas 2.5%. However, prices in Europe went down by 1.6%.
On the same call, CEO Alan Jope said: "We've seen our ability so far to land inflation and continue the improvement of our competitiveness. It's much easier for us to land pricing in emerging-market trade structures than in the developed markets – Europe is particularly difficult.
"When we see inflation, our first reflex is to look at cost and mix with pricing as a last resort, given how competitive our markets are. But so far so good. Latin America is our lead example where we've been very aggressive on pricing because of the double effect of commodities and currencies."
A week ago, Nestlé, the world's largest food manufacturer, warned inflation, driven by commodity, packaging and transport costs, is likely to spill over into next year.
Nestlé CEO Mark Schneider said: "From what we can see now, inflation is very much a 2021 and, to some aspect, also a 2022 phenomenon. This is a very volatile environment right now with very low visibility, lots of surprises happening, and again, we will take pricing action, and we have taken some pricing actions already."
For the first quarter, Unilever reported a turnover of EUR12.3bn (US$14.9bn), which was down 0.9%, driven by a negative currency impact of 8%. Underlying sales growth rose 5.7%, with volumes up 4.7%.
"We are confident that we will deliver underlying sales growth in 2021 within our multi-year framework of 3-5%, with the first half around the top of this range," CEO Jope noted in the results commentary. "We expect to increase underlying operating margin slightly for the full year, though with a decline in the first half driven by Covid-19 impacts, higher cost inflation and increased marketing spend over the prior year."
CFO Pitkethly told analysts Unilever will "try to drive our savings programmes hard in order to offset inflation", adding "we are confident we have the toolkit and the ability to navigate higher inflation through dynamic pricing actions and cost savings".
He continued: "We are seeing levels of inflation that we haven't seen in about a decade and we've stepped up pricing in the first quarter. We will continue to take price action in countries and categories where we see that inflation, while always taking the needs of the local consumer into account."