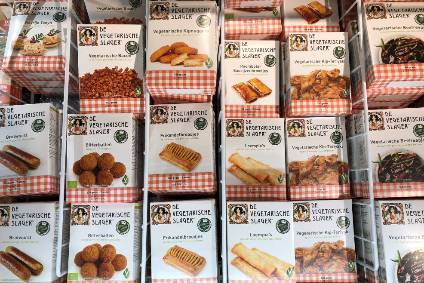 Unilever wants its sales from plant-based alternatives to meat and dairy products to jump five-fold over the next five to seven years as the consumer goods giant seeks to "reduce the environmental impact of the global food chain".
The owner of Ben & Jerry's ice-cream is targeting EUR1bn (US$1.18bn) in sales of meat- and dairy-free products. The company, also home to meat-free brand The Vegetarian Butcher, also plans to increase vegan alternatives across some of its other product lines, including Hellmann's, Magnum and Wall's, under its newly-launched Future Foods strategy.
Unilever's push behind meat-alternative and dairy-free products will be led by The Vegetarian Butcher, a plant-based business in the Netherlands acquired in 2018. At the time of that announcement, the Anglo-Dutch CPG business said Unilever was already selling around 700 vegetarian food products in Europe.
The Unilever product range also contains products such as Hellmann's vegan mayonnaise and dairy-free versions of ice-cream products including Magnum.
Key objectives behind the Future Foods strategy will be to "help people transition towards healthier diets and to help reduce the environmental impact of the global food chain", Unilever said in a statement today (18 November).
Hanneke Faber, the president of Unilever's food and refreshment division, said: "It's not up to us to decide for people what they want to eat, but it is up to us to make healthier and plant-based options accessible to all. These are bold, stretching targets which demonstrate our commitment to being a force for good."
She highlighted some issues around food consumption and supply as drivers behind the target.
"It is widely recognised that the current global food system is inequitable and inefficient. One billion people around the world are hungry, while two billion are obese or overweight," Faber said. "One-third of all food produced is thrown away. And animal agriculture is the second-largest contributor to greenhouse gas emissions after fossil fuels and a leading cause of deforestation, water and air pollution and biodiversity loss."
As a result, Unilever is aiming to halve food waste in its global operations by 2025, five years earlier than its initial target. It is also seeking to double the number of nutritious products containing vegetables, fruit, proteins, vitamins and nutrients by the same threshold.
For packaged ice cream, Unilever said the products will not contain any more than 22 grams of sugar and 250 Kcal per serving by 2025, part of a wider thrust to lower the calorie, salt and sugar content across its products.
With that in mind, "85% of Unilever's global foods portfolio will help consumers reduce their salt intake to no more than 5g per day by 2022", it said.
Speaking at the Reuters Food Chain Connect 2020 event earlier this month, Faber, after being asked which areas of the Unilever food business could be candidates for divestitures, said: "I think we've become really clear on where we focus and it's in a number of areas. Scratch cooking, pre-Covid, that was a good business for us – so bouillons, seasonings, sauces – a very good business for us and one we believe will continue to grow.
!Ice cream, especially premium ice cream, is an area that's very strong. What's newer is functional nutrition – which is why we acquired Horlicks and Boost – and plant-based, especially new meat, so The Vegetarian Butcher but also plant-based meaning plant-based ice cream. Before the pandemic, those would be great growth spaces for us. They continue to be great growth spaces during the pandemic."