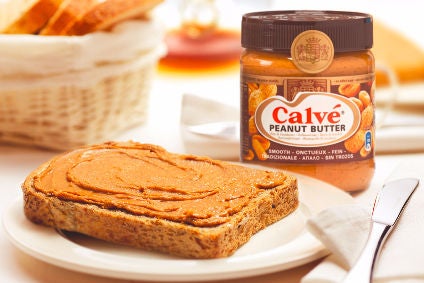 Unilever is looking to sell its Calvé peanut butter through major retailers in the UK and Ireland.
Calvé peanut butter is sold in the Netherlands, where Unilever also markets sauces and soup under the brand. The peanut butter is also sold in France, Spain, Italy, Turkey, the US and China.
In the UK, the peanut butter is already available through amazon.co.uk but Unilever and its local distributor are looking to build the presence of the product.
Pragmatic International Trading, which holds the distribution rights for Calvé products in the UK and Ireland, believes mainstream physical retailers in both markets will be interested in stocking the peanut butter.
"Given the Calvé brand's popularity in the Netherlands and the quality of the products themselves, we are anticipating interest from major multiples," Toni van Eijden, managing director of Pragmatic International Trading, said. "We fully appreciate that it takes time to negotiate significant listings. We plan to be here in the long term and appreciate that it will take a minimum of six months to achieve a listing in a major supermarket."
Reflecting on the UK, van Eijden added: "The peanut butter sector is growing because it fits in with modern lifestyles and is suitable for breakfast, lunch and as a snack. It appeals to customers of all ages, especially children and teens. With consumers becoming more and more health-conscious, we at Pragmatic International Trading see the opportunity to offer retailers a healthy and great-tasting peanut butter. Not only is Calvé an excellent alternative to the current options, its flavour and quality advantage makes it a strong contender to become the UK's preferred peanut butter. Calvé peanut butter is a firm favourite in the Netherlands and other countries around the world, and will be a hit in the UK too."
The range Unilever is looking to sell in the two markets features three variants: smooth, crunchy and light. Each peanut butter will be available in 350g jars. The recommended retail sales prices for the jars in the UK are GBP2.35 (US$3.35) for the smooth butter and GBP2.45 for the crunchy and light options. In Ireland, the smooth butter has a recommended price of EUR2.70. The crunchy and light butters have recommended prices of EUR2.82.