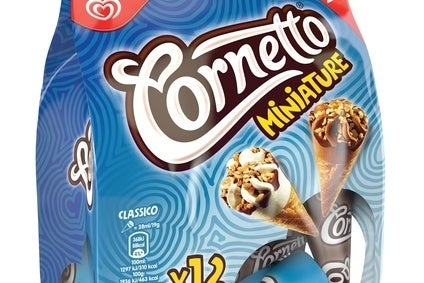 ?Total group sales up 12.3% on FX gains
Refreshments underlying sales rise 2.5%, volumes dip
Food underlying sales increase 2.9%, lifted by volume
Unilever has booked first-quarter underlying sales growth at its food and refreshment businesses, although pricing in food and volumes of refreshment lines – which include ice cream – came under some pressure in the period.?
Underlying food sales were up 2.9% to EUR3.2bn (US$3.4bn) on the back of a 3% increase in volumes. Pricing was down 0.1% at the unit. Growth was lifted by the performance of Unilever's savoury brands, with soups in Europe and Hellmann's in the US expanding revenues and Knorr benefiting from an advertising push.
Refreshment like-for-like revenues increased 2.5% to EUR2.3bn. Gains were driven by pricing at the ice cream maker, with underlying volumes falling 0.2%. Underlying profits at the business increased 2.6%, Unilever revealed.
On a group-wide basis underlying sales rose 2.8% and total sales increased 12.3% to EUR12.8bn, lifted by the performance of its emerging market business and currency exchange.