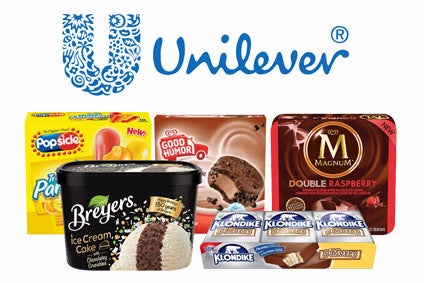 Unilever has reported higher underlying sales growth for its foods and refreshments divisions in the first quarter of the year.
Foods reported a 1.9% increase in underlying sales growth – the measure that strips out the effects of exchange rates, and costs associated with acquisitions and disposals – to EUR3.1bn (US$3.48bn). Underlying sales growth benefited from higher pricing during the period despite a 0.2% fall in volumes.
Turnover for the food division excluding the adjustments did, however, fall 3.5%, impacted predominantly by negative exchange rates.
In a statement announcing the results, Unilever pointed out "good performance in savoury was led by cooking products in emerging markets and innovations around naturalness". Its spreads unit continued to come under pressure.
Unilever's refreshments division saw a 3.8% rise in underlying sales growth to EUR2.21bn from EUR2.28bn a year earlier. Underlying volumes were up 1.9%. On a non-adjusted basis turnover for the refreshments division was down 3.1%
The Magnum maker said ice cream "continued its strong momentum" driven by "margin-accretive innovations" and added it was now addressing the value segment in ice-cream.
Underlying sales on a group-wide basis were up 4.7% to EUR12.5bn, but on a non-adjusted basis turnover fell 2%.
Results by Geography
Asia/ North Africa, Middle East, Turkey /Russia, Ukraine, Belarus: Turnover EUR5.4bn, underlying sales growth rose +5%
Americas: Turnover EUR4bn, underlying sales growth rose 8.5%
Europe: Turnover EUR3.1bn, underlying sale growth fell 0.6%