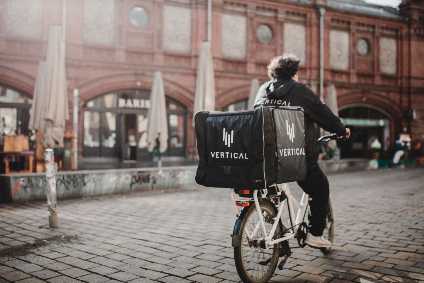 Unilever has teamed up with German 'ghost kitchen' operator Vertical Food as the Berlin-based firm looks to expand across the country.
The Hellmann's and Knorr owner will supply Vertical Food's dark kitchens and help the company in areas such as digital marketing.
Vertical Food, set up in Berlin in 2017, delivers food in the German capital, offering a range of cuisine types. The firm is looking to take its service across Germany, initially focusing on the country's biggest cities, including Hamburg, Frankfurt and Cologne.
Harm van Tongeren, vice president of Unilever Food Solutions & Langnese, the FMCG giant's foodservice-focused business in Germany, said: "We can further expand our brand presence digitally via virtual restaurants and gain valuable experience from a successful ghost-kitchen operator."
Describing how Unilever could benefit Vertical Food as the foodservice operator looked to expand, a spokesperson for the consumer goods group's German unit, said: "Unilever will be a solution provider to Vertical Food by delivering products that fit and improve their overall production process and offerings. Additionally, Unilever brings in its marketing and digital expertise to jointly develop the positioning and performance of Vertical Food."
Foodservice is major business for Unilever and, like many food manufacturers that supply the channel, its sales have suffered during the Covid-19 pandemic. In 2020, Unilever said sales from its foodservice-focused "food solutions" arm fell 30%. A year earlier, the unit generated EUR2.5bn in sales.
Asked for Unilever's view on the outlook for ghost kitchens amid the prospect of the broader foodservice sector market re-opening amid mass vaccinations against the virus, the spokesperson added: "Some changes will be permanent. Delivery and ghost kitchens as an alternative for restaurants and guest consumers in our opinion will be here to stay."
Beschir Hussain, founder and CEO of Vertical Food, said working with Unilever would "strengthen" his firm's brand and roll-out across Germany. "This partnership allows us to think long-term, to continue to grow and increasingly focus on our brands, employees, technology and market investment."