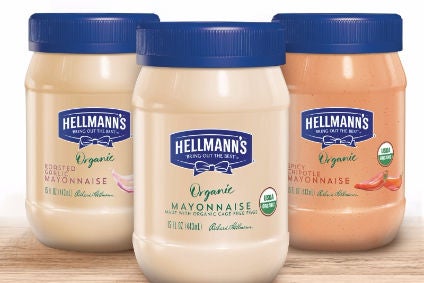 Unilever has launched a version of its Hellmann's mayonnaise in the US that contains no eggs, creating a close competitor to fast-growing upstart Just Mayo.
The consumer goods giant is targeting what it said was "a growing number of families" were looking for eggless spreads due to dietary restrictions, food allergies or a preference for plant-based foods.
Just Mayo owner Hampton Creek has secured national listings for its eggless spread at retailers including Safeway, Whole Foods and Costco. The company, set up 2011, attracted criticism from Unilever in 2014 for its use of the words mayonnaise and mayo. Unilever claimed federal regulations meant mayonnaise had to contain eggs and launched a lawsuit against Hampton Creek, claiming its smaller rival was "stealing market share from Hellmann's".
However, within two months, Unilever had withdrawn the lawsuit. Last summer, the US Food and Drug Administration said Hampton Creek was breaking labelling rules and asked the company to "correct the current violations".
In December, an agreement between the FDA and Hampton Creek was announced that allowed the company to keep the Just Mayo name, with some changes to the labelling for the spread.
As well as being free from eggs, Unilever's Hellmann's Carefully Crafted Dressing & Sandwich Spread – a name that does not include the words mayonnaise or mayo – contains no artificial colours and flavours. It is also made with non-GMO sourced ingredients.
Unilever has also launched an organic version of Hellmann's. The mayonnaise contains USDA-certified organic ingredients, including organic cage-free eggs and organic oil. It has no artificial flavours or preservatives. The company has developed three varieties – original, roasted garlic and spicy chipotle.
"At Hellmann's, we're committed to bringing out the best by providing delicious choices that fit the needs and changing preferences of families, without sacrificing the taste and blue ribbon quality they've come to count on from America's favourite mayonnaise brand," said Russel Lilly, marketing director at Hellmann's. "Our fans have been asking us for organic and eggless options with the creamy taste of Hellmann's for years. We listened and responded by giving them choices that are priced competitively and available nationwide."
The eggless and organic spreads are available in 15 oz and 24 oz jar sizes nationwide.