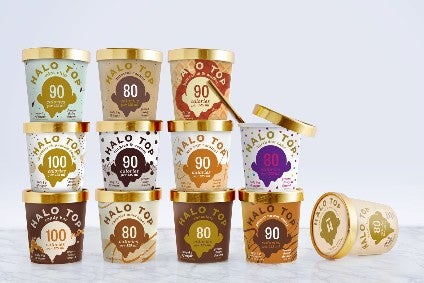 just-food publishes the most notable product development from the international food sector, presented in bitesize format to give you a flavour of the innovation from your peers and competitors announced this week.
Unilever launches Ghana-inspired snack pot in UK
Unilever is introduced a snack pot in the UK that leans on a popular dish in Ghana, CEO Paul Polman said yesterday (1 February).
Speaking as Unilever announced its 2017 financial results, Polman sought to underline the "greater entrepreneurial activity in our businesses in all of our categories" and listed products tapping into buoyant consumer trends.
He described Red Red as "a vegan, gluten-free snack pot inspired by a popular dish in Ghana", which is "launching now in the UK as we speak".
just-food approached Unilever's UK arm for further details bit had not received a reply at the time of writing.
There is a website for the Red Red brand, on which it indicates the product is listed at Whole Foods Market in the UK.
"Mixing up the energy of Africa with vegan vibes and fast-paced London lifestyles, Red Red is an all-singing all-dancing mouthwatering meal pot that cooks up the kind of kicks you wouldn't have thought possible in just seven minutes," the website reads.
Halo Top to arrive in Canada as appetite grows
Halo Top ice cream from the US is due to make its debut in Canada following its launch in the UK in January.
While only seven of the 32 flavours available in the US made it to UK shelves, Canadian consumers will be able to enjoy 12 of the low-calorie ice cream tastes when the product arrives there in March.
Each serving of Halo Top has 80-100 calories and six to eight grams of sugar and will be on the shelves of select Loblaw outlets, Metro Ontario, Whole Foods, Save on Foods and CO-op stores.
Halo Top started out in the US in 2011, and, according to a statement announcing the Canada launch, "surpassed iconic industry leaders when it became the best-selling ice cream pint in the U.S. last year."
Founder and CEO Justin Woolverton added: "Our number one international request by far was to bring Halo Top to Canada. We're so excited to be able to share Halo Top with Canadians and hope they love it as much as we do."
Germany's DMK embarks on ice-cream offensive
DMK, the German dairy giant, is to roll out a range of ice-cream products in its domestic market in April.
The company is relaunching the Sanobub brand back into Germany's ice-cream market with a series of products.
The programme will also see DMK take its Milram dairy brand into ice cream with lollies containing high-protein ingredient skyr.
DMK has also signed a deal with drinks behemoth Diageo to use the licence to cream-liqueur brand Baileys in Germany's ice-cream sector.
The moves are being made against the backdrop of DMK revamping its overall business into six units, one of which focuses squarely on ice cream.
Del Monte Pacific launches S&W Fruit & Chia cups in Singapore
Del Monte Pacific is making its S&W Fruit & Chia cups available in Singapore through NTUC Fairprice grocery stores.
The product was first launched in the US under the Del Monte brand.
S&W Fruit & Chia combines chunks of fruit with chia seeds, known for their healthy properties. There are three flavours to choose from: Peaches in Strawberry Dragonfruit Flavoured Chia, Mixed Fruit in Tropical Flavoured Chia and Pears in Blackberry Flavoured Chia.
The RRP for a sleeve or set of two large cups is SGD5.20 (US$3.96).
Froneri launches Extrême crunchy-topped ice cream cones
Froneri is introducing its Extrême range of ice cream cones, the first innovation since the company was formed in a joint venture between Swiss food giant Nestle and the UK's R&R Ice Cream in 2016.
Launched by what is now regarded as the UK's largest ice cream producer, the Extrême cones come in four flavours: salted caramel and white chocolate; smooth hazelnut with creamy vanilla; gooey chocolate fudge; and fresh and fruity raspberry with double cream.
The new range will be available in the UK's top four supermarkets, as well as the Co-op, while the gooey chocolate fudge flavour will be exclusive to Tesco.
Froneri is aiming to penetrate the evening snack occasion, which it says, quoting data from Kantar, is worth GBP145m (US$205.2m).
Charlotte Hambling, head of Froneri's UK marketing, said: "The cones sector has been stagnant in recent years, with consumers looking for a more premium and luxurious choice. Extrême meets this need and will drive incremental category value by tapping into different eating occasions and adding to consumers' repertoires."
Mars launches M&M's Crispy Spread
Mars has announced an addition to its UK chocolate spreads range, M&M's Crispy Spread.
The launch sees the introduction of the company's number one confectionery brand to the chocolate spreads category for the first time.
Michelle Frost, general manager at Mars Chocolate Drinks and Treats, said: "We are extremely excited to introduce M&M's Crispy Spread to our range of iconic confectionery branded spreads. We continue to innovate and create interest in the category, and are looking forward to offering even more choice with this new family sharing range".
Available in a 350g jar, M&M's Crispy Spread has a RRP of GBP2.79 (US$3.96). It is available at Asda.
The company has also launched existing Galaxy and Maltesers spreads in the larger 350g jar size with the same RRP.
Allied Bakeries launches Kingsmill Super Seeds bread
Allied Bakeries, the UK bread arm of Associated British Foods, has added to its Kingsmill range with a seeded loaf, a type of bread long marketed by rivals.
Kingsmill Super Seeds is available in 800g and 400g varieties. Made with a variety of seeds, including linseed, sunflower, poppy and pumpkin, it is a source of fibre and Omega 3 alpha-linolenic acid.
Allied Bakeries says the launch is responding to a key market trend, quoting research revealing 30% of consumers choose to buy seeded bread for health reasons.
Kingsmill head of marketing Matthew Cullum said: "With no everyday Kingsmill seeded option, this was an obvious gap in choice for shoppers."
Kingsmill Super Seeds is available at chains including Tesco, Asda and The Co-op with a RRP of GBP1.25 (US$1.76) (800g) and GBP0.75 (400g).
Nestle brings Les Recettes De L'Atelier chocolate to UK
Swiss food giant Nestle is bringing its Les Recettes De L'Atelier premium chocolate brand to the UK exclusively through Sainsbury's.
Translated as 'recipes of the artisan's shop', the chocolate blocks contain fruit and nuts and come in seven different flavours: raisins, almonds and hazelnuts; orange zest & cacao nibs; whole roasted almonds & hazelnuts; salted caramel; roasted almonds; blueberries, almonds & hazelnuts; and cranberries, almonds & hazelnuts.
Nestle said Les Recettes De L'Atelier was launched in Switzerland and France in 2014 and has become the company's fastest growing confectionery brand in Europe sold in more than 15 countries.
The brand is on sale now in the UK.
Alex Gonnella, the marketing director for Nestle's UK confectionery business, said until now there had been a gap in what it offers in premium chocolate in the UK.
"What has already been achieved with Les Recettes De L'Atelier is very impressive, it's a brilliant, luxury product and the reception we've seen from our colleagues here at Nestle alone tells me that it will be very well received," he added.
US banana snacks maker Barnana moves into new category
Barnana, the US business that makes snacks out of bananas deemed too imperfect to sell, has entered a new category.
The company has made a foray into the salty snacks market with a line of organic and ridged plantain chips.
The firm has developed three varieties: Himalayan pink sea salt; Acapulco lime; and sea salt and vinegar.
Barnana said the snacks are available on Amazon and Barnana.com at US$4.99 four a five-ounce bag or $14.99 for a three-pack. The company told us the snacks would start rolling out to other retailers in April.
Arla Fibre fruit yogurts arrive in Tesco
European dairy cooperative Arla Foods is introducing a range of high-fibre fruit yogurts in the UK.
Arla Fibre contains 4.7 grams of fibre in each 150g serving, is low in fat, naturally high in protein and provides 27% of the recommended daily calcium intake.
It will be available in 150g and 450g pots, with the larger version arriving in Tesco today (29 January). Both sizes will land in other major supermarkets in March.
Flavours include pineapple & passionfruit, raspberry, strawberry and blueberry.
James Quayle, Arla Foods' brand manager, said Arla Fibre yogurts were inspired by revelations UK consumers were not getting enough daily fibre under recommendations from the British government.
"On average, the UK population only eats about 18g of fibre a day, so when the UK government released their 2015 guidelines advising that adults should eat 30g of a fibre, we realised just how much we are lacking from our diets," Quayle said.
Nomad Foods takes Findus to Canada
UK-based, European frozen-food group Nomad Foods has launched its Findus brand into the Canadian market.
Nomad is rolling out two lines – Steam Delicious steamed cod loins and English Style battered fish.
The loins – sealed in a steam pouch – come in two varieties: chive and herb butter or lemon parsley butter.
The battered fish, "made in the UK using an original British recipe that has been sold in the UK for decades", is available in four-pack haddock or cod, as well as a six-pack pollock.
Metro and Sobeys stores in Ontario are selling the products, with the cod loins having a suggested retail price of CAD9.99 (US$8.10) and the battered fish a price of CAD10.99.
Happy Family baby yogurts with no added sweeteners
Danone-owned baby food brand Happy Family is launching a range of organic yogurts with no added sweeteners in the US.
Catering to babies and toddlers from six-months old up to three years, the 'Happy Baby' and 'Happy Tot' Whole Milk Yogurt lines contain probiotics and vitamin D, and are available in US mass retailers and grocery stores nationwide.
'Happy Baby Organic Whole Milk Cups' come in a 1.76-ounce pack of six and are available in plain; blueberry; banana and sweet potato; and peach and mango. They are priced at US$3.29.
The Happy Tot version is priced at $4.29 for six, four-ounce cups in the flavours apple, mango and carrot; strawberry, banana, oats and chia; and apple and pear.
Happy Tots also come in single, 3.5-oz pouches for $1.59, or in packs of four at $5.59. Flavours include apple and blackberry; banana, mango and spinach; and strawberry, banana, oats and chia.
Food for Progress launches Oumph! frozen pizza range
Swedish-based meat-free business Food for Progress has launched a range of pizzas under its Oumph! brand.
The pizzas have an Italian tomato sauce base and plant-based cheese-style toppings from Violife.
An Italian Style Pizza has semi-dried tomatoes, arugula and is seasoned with thyme and garlic. And the Grilled Style Pizza has a barbecue flavour and is topped with grilled peppers and onions.
Food for Progress co-founder Anna-Kajsa Lidell said: "We believe in food that makes your mouth water, and that is good for the environment. There is more and more demand for fast herbal alternatives."
The pizzas are 400 grams and cost from SEK47.90 (US$6.08).
New Sunbites from PepsiCo taps into vegetables
Sunbites, the 'better for you' snack brand from PepsiCo, is now available in the UK in two new varieties.
Caramelised Onion & Balsamic Vinegar and Roasted Red Pepper & Chilli make up the new Sunbites Veggie Harvest line.
The snack, part of PepsiCo's Walkers range, has 69% multigrain and vegetable content.
Katia Fragkou, senior marketing manager for PepsiCo's better-for-you snacks in the UK, said: "Our research shows us that the combination of vegetables and multigrain is extremely appealing for shoppers and as a popular brand. Veggie Harvest has already performed very well in America as it is a strong concept that is responding to the continuing demand for 'Better For You' snacks."
Sunbites Veggie Harvest is available in 6x25g multipacks with an RRP of GBP1.85 (US$2.60).
Mondelez reveals Cadbury Oreo sandwich, Oreo bites
Mondelez International is launching two more chocolate products with Oreo biscuits in the UK.
Cadbury Dairy Milk Oreo Sandwich in tablet form and Cadbury Oreo Bites in sharing bags will arrive on UK shelves on 1 February.
The tablet comes with a layer of Cadbury Dairy Milk chocolate sandwiched between mini Oreo biscuits. Cadbury Oreo Bites offer bitesize chocolate pieces filled with an Oreo filling.
Cadbury Dairy Milk Oreo Sandwich comes in a 92-gram pack with a recommended retail price of GBP1.49 (US$2.09).
Cadbury Oreo Bites in 110g are available at a RRP of GBP1.99
Francesco Vitrano, marketing activation director for chocolate at Mondelez, said: "Cadbury and Oreo has been a winning match since the tablet launched in 2012 and it has also been a success story when extended into other segments (singles and seasonal)."