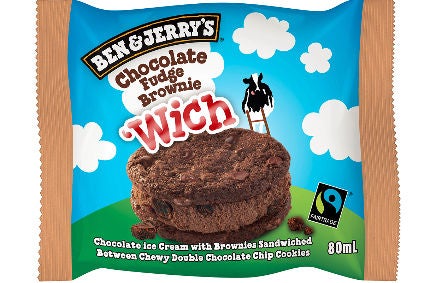 Unilever has introduced ice-cream sandwiches under its Ben & Jerry's brand in the UK, the first "handheld" products in the range.
The Ben & Jerry's 'Wich sandwiches feature ice cream between two soft-baked cookies. Unilever has launched two flavours: Cookie Dough and Chocolate Fudge Brownie.
Unilever said the launch would "unlock the on the go [opportunity]".
The new product is available in four options: individually wrapped options; a pack of three; a multipack of eight; and a tub format.
Alessandra Salvo, Ben & Jerry's brand manager, said: "We've consciously coupled soft-baked cookies with much loved Ben & Jerry's flavours, to offer consumers a euphoric ice cream experience that can be enjoyed any 'Wich way – whether at home or on the go."
Unilever said the prices of the products range from GBP2.49-4.99 (US$4.24-$7.07).