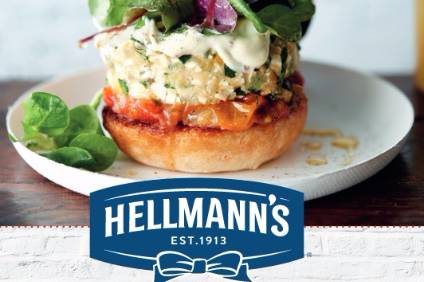 Unilever is introducing Hellmann's mayonnaise brand to France in a launch aimed exclusively at the country's foodservice sector.
Hellmann's will be available in France in two formats from next month. Five-litre buckets will be on sale to foodservice customers, while Hellmann's mayonnaise – together with Hellmann's ketchup – will be on offer in squeezable 430ml bottles for tables in "the booming market" of gourmet snacking and burger outlets and casual restaurants and eateries, Unilever said.
"The quality, authenticity and simplicity of Hellmann's ingredients are the same as those used for homemade mayonnaise: eggs, oil, vinegar and lemon juice," Unilever said.
The future of Unilever's food businesses has been the subject of speculation since the consumer goods group announced last month it was going to review its operations in order to "accelerate" the value it can give to its shareholders. The review came in the wake of Unilever's decision to brush off a proposed GBP112bn takeover offer from Kraft Heinz. Unilever has said it expects to complete the review by "early April" when it will communicate its findings.
Last week, The Sunday Times reported Unilever is prepared to sell its spreads business, including brands like Becel and Stork. Unilever declined to comment when approached by just-food.
Some industry watchers believe Unilever could look to sell other food assets. Alain Oberhuber, an analyst at Switzerland-based financial services firm MainFirst, has suggested Unilever could also be willing to offload its Hellmann's business.
"We think that the divestment of Unilever's spreads business is not the final step of the new strategy. Unilever may be willing to divest its Hellmann's dressings business. This could result in another EUR4bn cash-in or a transaction price of two times sales and around 11.5 times EBITDA. A divestment of the spreads and dressings business to Kraft Heinz would bring a higher price as a merger of Unilever's spreads and probably also its dressings business would result in a strong global leadership position in these categories," Oberhuber said last week.
"Unilever's strong Hellmann's mayonnaise business and its mustard category with a substantial exposure in the UK and North America, as well as its recent strong performance in Brazil, fit nicely with Kraft Heinz's ketchup activity."