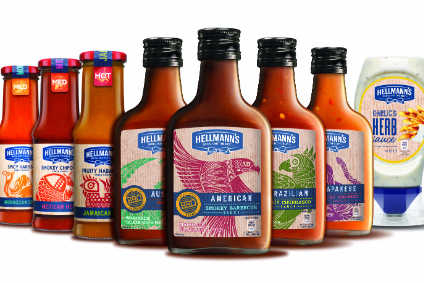 Unilever is to take its mayonnaise and dressings brand Hellmann's into the UK sauces category with the launch of a range of hot and barbecue products.
The consumer goods group has developed a line of ten products – four barbecue, three "hot and spicy" and three "smooth and creamy" sauces.
The barbecue sauces include a Japanese line that contains Kikkoman sauce, while the hot-and-spicy stable includes a Jamaican habanero sauce.
Citing Nielsen data, Unilever said what it called "variety sauces" is "growing in penetration, volume, value and shelf space".
"Our new range of BBQ and hot sauces will introduce a global palate to the UK BBQ occasion," brand manager Hannah Webb said.
Unilever has paired each sauce with a food, which will be highlighted on the packaging and on shelf labels.
The sauces will roll out next month, with a GBP10m advertising campaign to launch in May.
The 250ml smooth-and-creamy sauces have a recommended price of GBP1.69. The 200ml barbecue and 210ml hot-and-spicy sauces have a recommended price of GBP1.89.
—
Until 31 March, you can get 15 months of access to just-food.com for the price of 12 – and, along with giving you three months for free, you will also receive two exclusive research reports. Full details can be found here.