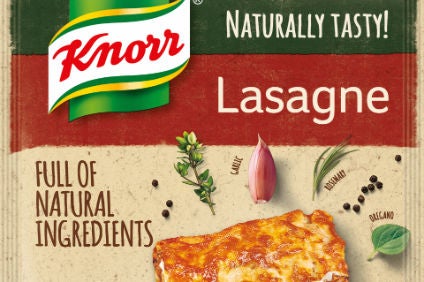 Unilever is launching a range of dry recipe mixes under its Knorr brand in the UK.
The Naturally Tasty range of six "premium" recipe mixes are made with natural ingredients "making them free-from artificial colours, flavours and preservatives", Unilever said.
The six variants – Moroccan Chicken, Spaghetti Bolognese, Lasagne, Tuna Napolitana, Beef Tagine and Chilli Con Carne favours – are designed to "inspire consumers with new mid-week recipe ideas" and "help drive basket spend with a premium product offering", Unilever said.
Vanni Cataldi, the marketing manager for Knorr in the UK and Ireland, claimed the new mixes "help address shopper concerns over artificial ingredients used within the easy cooking category". She added the mix ingredients include "sustainably sourced tomatoes which give our recipes a great taste".
Unilever said the new range's "lightweight and space-efficient packaging is designed to give an authentic food market feel to the products and offer optimum stand out, especially when compared to a jar sauce alternative".
Unilever CEO Paul Polman said in July that the group was "working harder" amid tough trading and strengthening its innovation capabilities. He said its food business unit was working at "getting into more attractive segments, adding: "Our foods portfolio is now much more focused on attractive segments, the largest is cooking ingredients [via the Knorr brand]… Of course there is still a drag from spreads but even with this foods is accelerating."