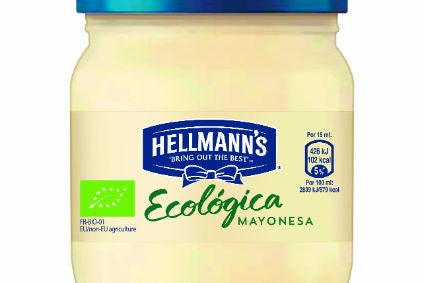 Unilever has launched an organic version of its Hellmann's mayonnaise in Spain.
The consumer goods giant said the mayo would meet "growing demand" for organic food in the country.
Ana Palencia, director of CSR at Unilever's Spanish arm, said the launch "represents the need and growing demand for a consumer looking increasingly for naturalness, quality and commitment to the planet by business".
Unilever pointed to a survey of Spanish consumers that it said showed 41% perceive organic food products as more natural and 34% as healthier than conventional products.
According to the survey, 27% of Spanish consumers deem organic products as too expensive, although an identical percentage believe it is worth paying more for the food. Unilever said the survey showed 58% of consumers associated buying organic products to eggs, behind only fruits and vegetables.
In February, Unilever rolled out organic Hellmann's in the US as part of a wider push by the brand to tap into changing consumer habits in the market. Unilever also launched a version of its Hellmann's mayonnaise in the US that contains no eggs, creating a close competitor to fast-growing local upstart Just Mayo, owned by Hampton Creek.