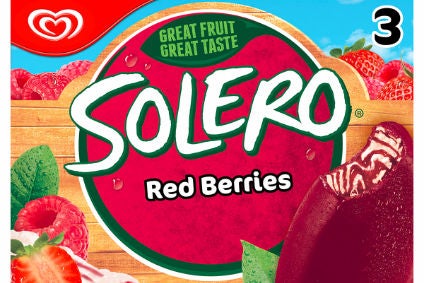 Unilever is targeting health-conscious consumers with the launch of its latest Solero ice cream in the UK.
The company has developed Solero Red Berries to tap "into the growing demand for healthier and more permissible ice cream choices".
The launch is supported by "a refreshed logo" and new packaging that will be used for the exotic and red berries Solero flavours, which Unilever said would highlight the brand's "fresh and natural fruit properties".
Solero Exotic is now made with sustainably farmed fruits, Unilever added.
The new Red Berries ice cream contains 111 calories and Unilever said it was "confident [it] will meet the consumer demand for permissible treats".
"We are very excited to be launching our new Solero Red Berries flavour. We hope that this new innovation will be the perfect guilt-free summer treat for adults at only 111 calories," Solero brand manager Louise Morley said.
Solero Red Berries has an RRP of GBP1.25 (US$1.77) and is available in multipacks of three with an RRP of GBP3.49
Last week Unilever announced a tie-up with confectioner Perfetti van Melle for the launch of Chupa Chups branded ice creams, which will hit western Europe this spring.