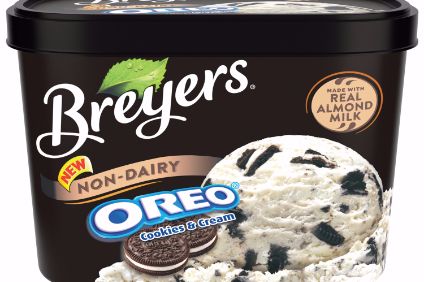 Unilever is rolling out a line of vegan Breyers ice cream products in the US.
The company has launched two almond-milk varieties, one using Oreo-branded cookie pieces.
"We know that consumers today are looking for a variety of choices, and we continuously evaluate our brands and products in an effort to meet those evolving tastes, lifestyle preferences and needs," Unilever's US arm told just-food today (14 February).
The flavours – Breyers Non-Dairy Oreo Cookies & Cream and Breyers Non-Dairy Vanilla Peanut Butter – will be available in 48-fl. oz. containers at grocery stores in the US from next month. The ice cream has a suggested retail price of US$4.49 to $5.99.
Last year, Unilever launched a dairy-free and certified vegan line of Ben & Jerry's ice cream in the US.
The Unilever global portfolio includes the dairy-free ice cream brand Swedish Glace. Unilever acquired the owner of Swedish Glace, Finnish firm Ingman Ice Cream, in 2011.