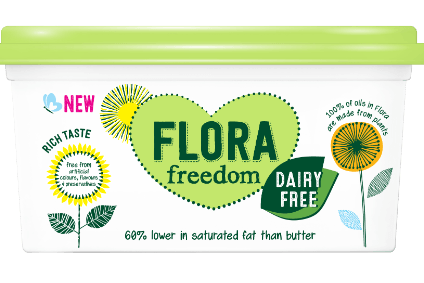 Unilever is reportedly preparing a GBP6bn (US$7.5bn) sale of its spreads business, which manufactures margarine under the Flora and Stork brands.
The Knorr maker launched a review of its operations after rebutting a GBP112bn takeover approach from Kraft Heinz late last month. At the time, Unilever said the review aimed to "capture more quickly the value we see in Unilever".
Speaking after the announcement, Unilever CFO Graeme Pitkethly revealed it would be a far-reaching probe into Unilever's business. "This will include options for our organisation, our portfolio, our cost structures and for our balance sheet and use of cash," he said.
According to a report in the Sunday Times yesterday (19 March), Unilever is now preparing to sell its spread business, which it carved out from its food business into a stand-alone unit – Baking, Cooking and Spreading – in 2014. Possible buyers are understood to include private equity firms Bain Capital, CVC and Clayton Dubilier and Rice.
Currently, the Baking, Cooking and Spreading unit generates revenue of around EUR3.4bn or approximately 7% of group sales. But revenue at the business has long been under pressure in a declining category. As a result, Unilever has seen repeated calls to dispose of the operations in order to raise cash to return to shareholders or fund expansion in the higher growth personal care area of its portfolio.
Responding to the reports, MainFirst analyst Alain Oberhuber speculates that Unilever could decide to opt for a more radical portfolio adjustment. "We think that the divestment of Unilever's spreads business is not the final step of the new strategy. Unilever may be willing to divest its Hellmann's dressings business. This could result in another EUR 4bn cash-in," he wrote in a note to investors.
In this scenario, Oberhuber believes that Kraft Heinz could emerge as a potential buyer for both Unilever's spreads business if it was also combined with the group's dressings brands, including Hellmann's mayonnaise. "A divestment of the spreads and dressings business to Kraft Heinz would bring a higher price as a merger of Unilever's spreads and probably also its dressings business would result in a strong global leadership position in these categories. Unilever's growth challenges in its spreads business could be solved as, with the Kraft Heinz spreads activities, the combined group will become the clear market leader in the USA and Europe. Additionally, Unilever's strong Hellmann's mayonnaise business and its mustard category with a substantial exposure in the UK and North America as well as its recent strong performance in Brazil fit nicely with Kraft Heinz's ketchup activity," he suggested.
Unilever has indicated it plans to reveal the details of its strategic review next month. A spokesperson for the company declined to comment further.