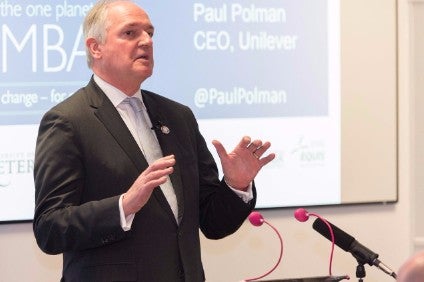 Unilever, which in the second quarter of 2017 made two investments in food companies, is eyeing further acquisitions in the sector, CEO Paul POLMAN has indicated.
The bulk of Unilever's M&A activity in recent years has involved buying home and personal care companies and offloading food assets, although the world's largest ice-cream maker has on occasion added to that side of its business through acquisition.
In April, Unilever announced plans to "exit" the spreads category, either through a disposal or a de-merger of its business in the sector, which includes brands such as Flora and Becel.
Nevertheless, the same month, the Colman's and Maille mustard maker announced a surprise deal to buy up-and-coming US condiments maker Sir Kensington's. A month later, Unilever headed a round of investment into Sun Basket, the San-Francisco-based organic meal kit delivery service.
Speaking to reporters yesterday (20 July) after Unilever announced its half-year results, Polman said the company, itself the subject earlier this year of takeover interest from Kraft Heinz, would look to add to its food business through acquisitions.
"Excluding spreads, our total food and refreshment unit is actually up 4.2% over the first six months, which shows again the power of our long-term compounding growth story. I would argue it's one of the best-performing foods businesses in the industry," Polman said. "We will continue to investment selectively behind value-creating M&A to strengthen that division. But we, as you have become accustomed to, from Graeme [CFO, Pitkethly] and myself – you have a Scotsman and a Dutchman sitting here – we want to be sure that we really fair prices for these assets. There's enormous discipline on our side as well."
Polman told just-food Unilever had invested in US meal-kit firm Sun Basket in a bid to gain insight into a fast-evolving channel in the country. Similar deals, he indicated, could be in the offing.
"On Sun Basket, it's a very fast-changing food environment where the ways people buy, consume, food is changing more rapidly than ever. We have invested here in a venture in the UK, which is basically a food system at train stations where people can pick up their fresh food and bring it home. We have invested in Sun Basket as a different model and we are looking at two or three other ones just to really understand the market, the trends and the opportunities there," he said. "These are small investments you need to continue to do as companies like ours to bring knowledge into the organisation. Some might work, some might not work. It's really an extension of your innovation machine and we're happy about that."
Polman added Unilever believes Sir Kensington's could grow its fledgling presence outside the US under the FMCG giant's ownership. "Sir Kensington's is a very attractive brand because it deals very much with millennials, the team that leads it is an incredibly energising and focused team and not surprisingly that business is actually accelerating its growth rate since we've had the fortune to be associated with them. We helped them outgrow first in the US, get broader distribution, get the product availability up production-wise etc and there's a lot of upside that we see in the US market we need to focus on and all of that is underway. But as you can imagine we envision that brand has some opportunities outside the US."
Unilever had been linked to the recent race for a clutch of the sector's largest condiments brands. Last weekend, The Sunday Times claimed Unilever and US group Hormel Foods were the front-runners to buy Reckitt Benckiser's food business, including brands such as French's mustard and Frank's RedHot sauce. On Wednesday, US herbs, spices and sauces group McCormick & Co. announced a deal to buy the assets for US$4.2bn.
Polman yesterday refused to be drawn on whether Unilever had been in the running and had decided to pull out as the price tag on the Reckitt Benckiser assets rose, telling just-food "we comment when we buy things," before adding: "As a general rule, anything in our industry we look at. You have to do that and see if it makes sense or not. Our food business is a very well-performing food business and very disciplined and we will always have that same discipline at looking at other margin-enhancing acquisitions if they make sense."
Interview from April 2017: "We fit Unilever's vision for next generation of good food" – Sir Kensington's co-founder Scott Norton on sale of US mayo maker