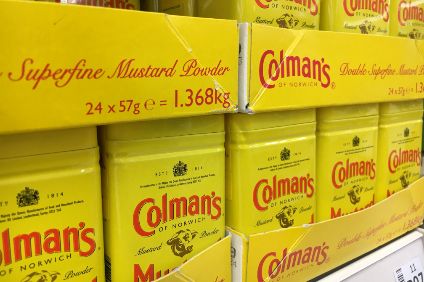 Unilever has reportedly secured a ten-year agreement to continue production of Colman's mustard in the UK city of Norwich.
A new GBP10m (US$12.8m) mustard and milling facility is due to be built near the city in north-east England, according to the UK newspaper The Daily Mail. The deal has been struck with a mustard and mint farmers' group known as Condimentum, the daily said.
The Anglo-Dutch consumer-goods giant confirmed in January its existing Colman's mustard factory in Carrow Works, Norwich, would close toward the end of 2019, putting 113 jobs at risk. Unilever said then 40 of the affected employees would be transferred to other sites, while 25 would be offered jobs at an undisclosed new facility in the city, with the remainder presumably to lose their jobs.
It is not clear what the future holds for those employees under the deal with Condimentum, although The Daily Mail reported yesterday (18 November) manufacturing of some other products will move to the UK county of Staffordshire, while packaging of dry condiments would be conducted in Germany.
When contacted by just-food today (19 November), a Unilever spokesperson said "we are not commenting on the specifics of our partnership" other than what was previously stated in a statement in January.
That statement read: "We will protect the historic link between Colman's and Norwich by retaining the production and packing of Colman's mustard powder, the historic mustard milling process, and mint processing in a new state-of-the-art facility in the Norwich area, created through a new long-term partnership with a consortium of local farmers, backed by significant investment from Unilever. We will also continue to source our mint and mustard locally as we have for generations.

"Manufacturing of the vast majority of the other products is planned to move to other sites in the UK, predominantly Burton-upon-Trent, home of Marmite and Bovril, reaffirming our commitment to UK food manufacturing. The packing of dry sauces will be absorbed by existing production lines and existing employees at a Unilever factory in Germany, which already makes the dry-sauce mix."
Unilever shares the Carrow Works site with drinks company Britvic, which was first to announce the possible closure of the plant in December, saying 249 people would lose their jobs.
UK unions had questioned in May elements of Unilever's consultation process held with the UK government and employees over the future of the Carrow Works' plant where Colman's mustard has been manufactured since 1858, claiming there were "discrepancies" between what information the company provided.