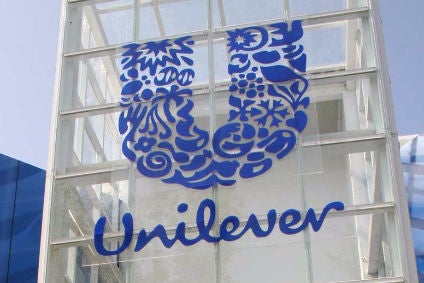 Unilever revealed this morning (21 July) that first-half underlying sales grew across its grocery and ice cream brands, with the exception of spreads which continued to struggle.
The consumer goods giant reported group-wide underlying growth of 4.7% in the six months to end-June.
Our first half results further demonstrate the progress we have made in the transformation of Unilever to deliver consistent, competitive, profitable and responsible growth. Despite a challenging environment with slower global economic growth and intensifying geopolitical instability, we have again grown profitably in our markets, competitively and driven by strong innovations. This consistency of performance, achieved during a period of high volatility and accelerating change, shows that our long-term focus is paying off. We are seeing the benefits from delivery against the four differentiated category strategies that continue to guide investment in our brands, our infrastructure and our people. In its refreshments unit, which includes ice cream brands like Magnum and Ben & Jerry's, Unilever said underlying sales gained 4.2%. Unilever said gains were driven by margin accretive growth of its premium ice cream brands.
In foods, which includes brands like Hellmann's mayonnaise and Knorr, like-for-like sales were up 2.7%. The company said its "good growth" in savoury was thanks to expansion in emerging markets and innovations around "naturalness".
However, Unilever conceded that its spreads business continued to decline. The group attributed its failure to improve spreads to continued market weakness and stressed that it is working to turn around its brands. "In spreads Flora highlighted its plantbased health credentials with a new advertising campaign and introduced a dairy-free variant in the United Kingdom," Unilever noted.
Unilever's total turnover was hit by currency exchange headwinds, dropping 2.6% to EUR26.3bn in the first half. Operating profit was down 0.1% at EUR3.8bn. However, net profit increased to EUR2.7bn, up 2%.
Commenting on the result, CEO Paul Polman said it demonstrated "progress" on Unilever's "transformation" to deliver "consistent, competitive, profitable and responsible growth".
He continued: "Despite a challenging environment with slower global economic growth and intensifying geopolitical instability, we have again grown profitably in our markets, competitively and driven by strong innovations. This consistency of performance, achieved during a period of high volatility and accelerating change, shows that our long-term focus is paying off."
Looking to the remainder of the year, he said: "We have been preparing ourselves for tougher market conditions in 2016 and do not see any sign of an improving global economy. Against this backdrop we continue to drive agility and cost discipline, implementing the key initiatives announced at the end of last year: net revenue management, zero based budgeting and 'Connected 4 Growth' which is the next stage in our organisational transformation. Our priorities continue to be volume-driven growth ahead of our markets, steady improvement in core operating margin and strong cash flow."