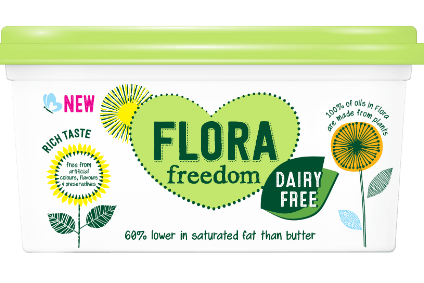 Unilever is launching a dairy-free version of its Flora spread in the UK, the company's latest bid to boost sales of the product in the country.
Sainsbury's and Waitrose are two of the retailers set to stock the dairy-free spread, Flora Freedom.
"Twelve per cent of UK households have a suspected dairy allergy or intolerance but currently only 1% of the spreads market is dairy-free," Unilever said.
Flora Freedom has a recommended retail price of GBP1.70 (US$2.42).
Unilever's spreads business, which sells products under the Flora and Becel brands, has been under pressure in recent years. In 2015, global sales fell 5%, Unilever said last week when it announced its annual results. The business is now part of a stand-alone unit – baking, cooking and spreading – set up last year to try to improve its performance.
Speculation over whether Unilever plans to offload the division has dogged the business and the talk intensified last week when it emerged Sean Gogarty, the executive appointed to lead the stand-alone unit, was leaving the group.
Reflecting last week on the performance of the business, Polman said: "Spreads continues to be a drag on the overall foods performance. We saw a decline of 5% as we have not been able to stem the ongoing market decline compounded by drop in butter prices. [2015] was a year of transition as we set up the new baking, cooking and spreads unit… It is still early for the unit and we will evaluate its course over 2016," Polman said.
"We will continue to look at that to see if it is a good business for the company. We must continue to build shareholder value. I can get rid of this business tomorrow by giving it away to someone but that is criminal."