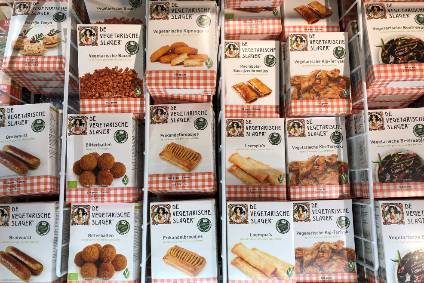 Unilever has extended an agreement with fast-food chain Burger King, which will now incorporate the FMCG giant's meat-free Vegetarian Butcher burger on its menu in China, Latin America and the Caribbean.
Burger King will market the product as the Plant-based Whopper, which will appear in 325 outlets in Beijing, Shanghai, Shenzhen and Hangzhou in China, followed by wider distribution across the country in the second quarter, according to a statement today (23 December) from the Hellmann's mayonnaise owner.
Launches in other Latin American and Caribbean markets such as Costa Rica, Colombia, Bahamas, Dominican Republic, Nicaragua, Suriname, Saint Maarten and Saint Kitts have been taking place over the last couple of weeks, Unilever said.
The Vegetarian Butcher burger has also entered new markets in Mexico, the UAE, Saudi Arabia, Oman and Morocco, and also via foodservice outlets in Brazil, Hong Kong, Japan and Singapore.
Unilever entered a European partnership with Burger King last year via the chain's parent Restaurant Brands International when the Rebel Whopper burger was launched incorporating patties made by the FMCG firm.
Last month, the Ben & Jerry's ice-cream maker said it would target EUR1bn (US$1.2bn) in annual sales in Europe from plant-based alternatives in the next five to seven years as the meat-free market continues to grow around the world.
Unilever announced it had acquired The Vegetarian Butcher in the Netherlands late in 2018 for an undisclosed sum. The company was founded by Jaap Korteweg, a real-meat farmer and meat lover until he turned vegetarian and formed the business in 2007. Unilever has worked with the company since 2016, producing a range of sauce-based vegetarian meatballs marketed under the Dutch giant's Unox brand.
During the course of 2020, the Anglo-Dutch owner of the Colman's mustard brand has successfully unified its legal corporate structure under one roof as a listed entity in London but with other listings in Amsterdam and New York retained. For the first time in its history, it will trade with one market capitalisation, one class of shares and one global pool of liquidity.