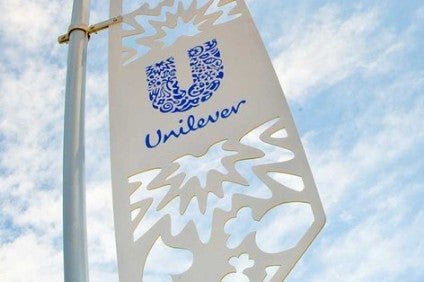 Unilever believes it can look to further grow its "highly accretive" business supplying foodservice customers by looking to generate more sales through consumer-facing, branded products.
The FMCG giant's Unilever Food Solutions arm makes sales of around EUR2.5bn (US$2.84bn) a year, the smallest of the four units that make up the Magnum and Knorr maker's food and refreshment division, which generates revenues of EUR20bn.
At Unilever's annual investor day, held this week in Mumbai, the company's senior management was asked what opportunities it sees to expand its foodservice business further.
Unilever CFO Graeme Pitkethly pinpointed an area. "The opportunity that's still to be tapped there is to move from back-of-house to front-of-house with our brands," he said. "Our Food Solutions business is a back-of-house, a kitchens business. How do you get from there to the front-of-house where you bring the brands together in that distribution space? It's still a big opportunity."
Outgoing CEO Paul Polman, who will stand down on 31 December after a decade at the helm, highlighted the recent changes Unilever has made to one part of its food and refreshment division to try to increase sales of branded products.
"Take tea for example. We are the biggest tea producers but are not really present in out-of-home tea. We have deliberately put a portfolio together of the Pukkas, the Pure Leafs, the Tazo, so we now have a differentiated portfolio to go into front-of-house in tea, out-of-home. I'm convinced that more tea is drank of value out-of-home than in-home. Theoretically, you could double your tea business if you get the excellence in out-of-home," Polman said. "That's just the tea itself. All the other brands have tremendous opportunities.
Incoming CEO Alan Jope, who will move from his role heading up Unilever's beauty and personal care businesses to succeed Polman, described the foodservice unit as a "highly accretive" part of the group's wider food and refreshment division.
"Let me be quite direct. The out-of-home food business over a long period of time – and recently – is growing at about twice the rate of the rest of the food business. That's without us probably tapping the synergies between in-home and out-of-home food. The best example is probably in China, where our Food Solutions business is multiples of the size of the retail business and Nitin [Paranjpe, the head of Unilever's food and refreshment division] is doing a fantastic job of starting to get much more leverage from the insights, the route to market and the opportunities to play our brands across both channels. It's a highly accretive part of the foods business and likely to remain that way."
Paranjpe told the audience of analysts foodservice – alongside e-commerce – represented two channels that "in the medium term could easily be up to a EUR1bn [additional sales] opportunity we see".
On foodservice, he added: "That business is essentially focused on delivering products and ingredients to shifts. The back-of-house business. But we are going to these restaurants and cafes. We have a relationship with them. The coming together of the two businesses now offers us an opportunity to sell more tea-based solutions, to sell a wider range of condiments – mayos, ketchups, mustards – which are front-of-house opportunities through which we don't just get business but we build our brands. That's where consumers come and experience our brands."
Asked if the market should expect to see Unilever Food Solutions' sales grow at a rate in "the upper end of mid-single digits, the lower end of high-single digits", Pitkethly replied: "It's in that ballpark."