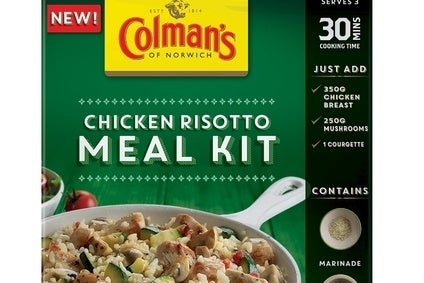 Unilever has launched a range of meal kits under its Colman's brand in the UK.
The three kits – Chicken Risotto, Chicken Tagine and Chicken Curry – allow for a meal to be prepared in 30 minutes.
Joanna Wright, brand manager for Colman's at Unilever UK, said: "We are seeing a trend towards scratch cooking, with consumers wanting to have more involvement in the cooking process. However, at the same time, consumers are spending less time in the kitchen – just 34 minutes on average. The launch of Colman's Meal Kits taps into both trends, offering consumers a tasty meal solution that fits into everyday family life".
Colman's Meal Kits have an RRP of GBP2.49.