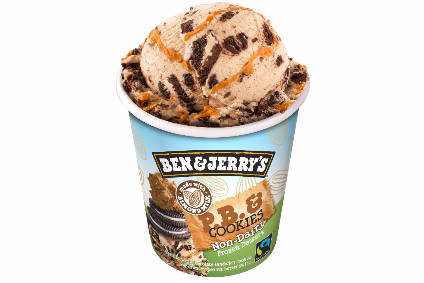 Tesco and Unilever have locked horns as the UK's largest retailer resists the consumer packaged goods giant's attempt to hike prices in the wake of Brexit.
According to reports, Unilever is seeking a 10% increase in prices in order to offset the depreciation of the sterling, which has reached 30-year-lows following the referendum result that will see the UK exit the European Union.
In the highly price sensitive UK supermarket environment, which has been shaped by the growth of discount retailers, Tesco has resisted the increase to prices on brands such as Knorr, Magnum, Ben & Jerry's and Flora. This is already hitting availability in some parts of the country and items have been removed from Tesco's e-commerce sales channel.
Unilever told just-food it is not releasing comment on the dispute. However, prior to the Brexit vote, CEO Paul Polman warned that a move to leave the EU would necessarily force supermarket prices up in the UK, using the example of ice cream, a sector of course in which Unilever is the largest player.
"You will have import duties on dairy. Anybody who's outside of the EU has import duties that could be up to 40%, 50%, so the price of dairy products will go up, the price of ice cream will go up and ultimately the consumer will pay the price for that," Polman said in June.
The value of the pound has fallen steeply against all currencies as worries over Brexit deepen. And it could well be set to fall further, with banks now predicting a rate on GBP-EURexchange of between EUR1.08 and EUR0.95 in the coming months. Pound to US$ predictions range from sub $1.20 to parity. While pro-Brexit politicians have argued this will boost the competitiveness of UK exports, a weaker sterling is damaging for UK food makers who import raw materials and ingredients from overseas.
Despite this, the UK economy has appeared resilient in the face of the Brexit turbulence, growing 0.4% in the third quarter. Much of this growth has been supported by consumer sentiment, however. According to a survey, released this week by industry body the Food and Drink Federation, confidence among food makers is becoming more "fragile" despite the fact that quarterly UK food sales are now at their highest level since 2013.
The FDF said three-quarters of companies are seeing ingredient prices increase, "largely" as a result of the weak pound, and this is having a knock-on impact on sector profit margins. "Urgent action from Government is needed to ensure essential imports of ingredients and raw materials from the EU and EU Free Trade Agreement countries do not face tariffs or costly non-tariff barriers," the FDF said.
Editor's viewpoint – It will not just be Unilever to push for Brexit price hikes