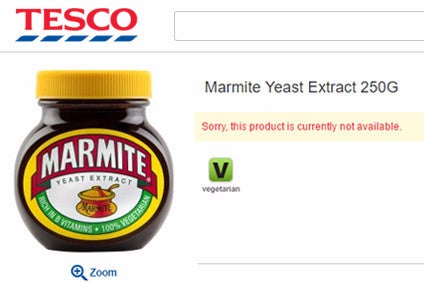 Unilever and Tesco have reached an agreement that will see the consumer goods giant resume deliveries of brands such as Marmite, Magnum and Knorr.
In a statement, Unilever said: "Unilever is pleased to confirm that the supply situation with Tesco in the UK and Ireland has now been successfully resolved. We have been working together closely to reach this resolution and ensure our much-loved brands are once again fully available."
A spokesperson for the company told just-food that it is not revealing details of the agreement reached with Tesco.
For its part, a spokesperson for Tesco said that the terms reached were satisfactory but did not go into specifics. "We always put our customers first and we're pleased it's been resolved to our satisfaction," the spokesperson told just-food.
The pricing dispute hit the headlines this week when it emerged that Unilever wanted to push through a 10% price hike across its stable of branded products. The company said that this was necessary in order to offset the devaluation of the pound, which has hit 30-year-lows in the wake of the Brexit referendum.
Speaking yesterday (13 October) during Unilever's third quarter conference call with analysts, Unilever CFO Graeme Pitkethly said that the UK price increase was "a normal devaluation led cycle".
He added that pricing decisions are made at a local level based on consumer affordability. "We care deeply about customer affordability of our brands. And as a consequence the increases we are taking are substantially less than we would need to cover the impact on our profitability," Pitkethly commented.
According to the finance chief, the group's UK price increases "have landed with most of our customers".
Bernstein Research analyst Andrew Wood predicted that "tough" pricing negotiations will be an increasingly common factor in the UK supermarket space following Brexit. "Of course, tough price negotiations are a constant factor of the relationship between food manufacturers and retailers and are going to be very tough in the UK following the Brexit vote."
The UK accounts for 5% of Unilever's global sales. The quick resolution of the dispute means that it ""will not be individually material", Wood said. However, he added: "If it is indicative of a broader backlash of UK retailers against manufacturers, then this could prove to be a drag on performance in Q4 and on into 2017."