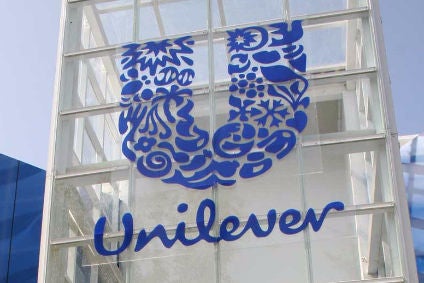 Unilever has talked up the importance of its businesses in "developing channels", describing its out-of-home arm as an "asset" and indicating it plans to expand its presence in e-commerce.
Amanda Sourry, the president of the Knorr and Hellmann's maker's food division, highlighted the two arms of the business during an investor presentation in the US yesterday (6 September), pointing to the changes in the dynamics of the consumer goods market.
The FMCG giant's out-of-home division, Unilever Food Solutions, supplies to foodservice operators globally. Last year, Unilever Food Solutions generated sales of EUR2.5bn, a small portion of the company's total revenue last year of EUR52.7bn but a side of its empire growing faster than its overall food business. Sales from Unilever Food Solutions rose 5% last year, compared to the 2.1% growth the company saw from its wider food arm over the same period.
"One of the parts of the business that I suspect you haven't heard very much about in the past but that we believe is well-placed, given the changes that we're seeing as far as channels are concerned, is our Unilever Food Solutions business. It's a business that has got really deep capabilities as far as chefs are concerned," Sourry told the Barclays Global Consumer Staples Conference in Boston.
"Given the fact that out-of-home is growing faster than retail channels as far as food is concerned, we believe that this business is an asset that we have. Also the opportunity to be able to drive insights from professional markets and from what's being consumed out-of-home into in-home offerings."
A business of a similar size proportionately to Unilever's total turnover but one growing faster is Unilever's e-commerce business. The company's total e-commerce sales – that is, across its home and personal care operations, as well as food – jumped 40% in the first half of 2017, a growth rate Sourry told investors was "competitive". E-commerce now accounts for just short of 3% of Unilever's sales.
Sourry emphasised how the proportion of Unilever's sales generated by e-commerce can be different through Unilever's wider business, with food lower in the round than areas such as parts of personal care.
"The percentage of online that we have in our different categories varies because the rate of adoption from a consumer perspective is also quite different – between some of the higher-end personal care categories, for example, and food. Food is running at about 1% in total, although in some of the more developed grocery.com markets, such as the UK or France, it's already at a much higher percentage at about 5%," she said.
Reflecting on Unilever's group e-commerce strategy, Sourry said the Dove soap-to-Magnum ice cream business was targeting four different e-commerce models that are developing within the channel.
"We don't believe there is a single model that in the end is going to prevail; we believe there will be a multiple of models and we are playing against them. It's about grocery.com, it's about marketplaces, such as Taobao; it's about pure play – most notably Amazon; and, obviously, it's in direct-to-consumer as well, where we're gaining experience with Dollar Shave Club in particular," she said.
She added: "We start in a good place as far as out-of-home capabilities are concerned. We're developing our capabilities in e-commerce."
During her presentation at the Barclays conference, Sourry reiterated Unilever's target of closing either the sale or de-merger of its spreads business by early next year.
Unilever said in April it would exit the spreads sector after years of declining sales in an under-pressure category.
"This is a huge and complex undertaking for Unilever. It's certainly the biggest divestiture we've ever been through. We've got a business that's present in over 60 countries. We're in the process of developing the carved-out financials, audited for the business, to be in a position to start the sale process this fall," she said. "I think we've been very clear that we intend to drive the maximum value we can through the sale process. If, in fact, we're not able to do that, we're also very clear we'll look at options such as a de-merger or selling parts of the business, rather than the entire business. But we're absolutely on-track in this process with where we said we would be when we made the announcement in April."