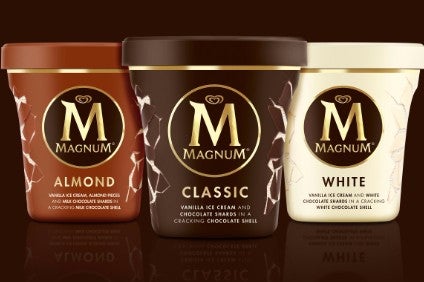 Unilever is rolling out a line of Magnum ice cream sold in tubs in the UK, five years after its first attempt at selling the hand-held brand in the format.
The company is selling a range of tubs it said are "more distinctly Magnum" than the ice creams launched in 2012. The former Magnum Luxury ice creams left the market a year later.
"We took learnings from the previous tubs product and went back to what makes the Magnum experience so special," Noel Clarke, vice president of brand building for refreshments and out-of-home sales for Unilever's business in the UK and Ireland, said. "We've spent three years developing what we think is the ultimate chocolate and ice cream experience in a tub."
The new ice creams are available in three varieties – classic, white and almond – in 440ml. The products have a recommended retail price of GBP3.85.
Nicky Kindt, senior brand manager at Unilever's UK arm, added: "What consumers love about Magnum is the perfect balance of cracking chocolate and velvety ice cream. We achieved this experience with the new Magnum tubs range by fully encasing the luxurious ice cream in a Magnum chocolate shell, including a thick chocolate disc to crack through as you open the tub. This new Magnum range takes everything consumers know and love about Magnum and brings it into a luxury tub format."