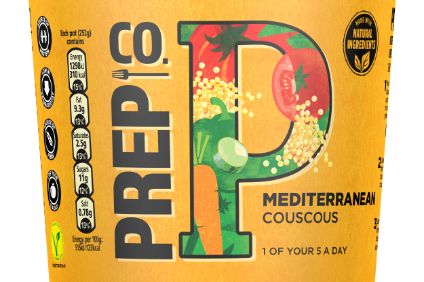 just-food publishes the most notable product development from the international food sector, presented in bitesize format to give you a flavour of the innovation from your peers and competitors announced this week.
Unilever targets healthy lunchers with Prep Co. pot snack range
Unilever has launched a instant pot snack range, Prep Co, in the UK, which the company is hoping will appeal to those looking for a healthy lunch option.

Backed by a GBP1m (US$1.41m) marketing campaign, Prep Co pots are made with natural ingredients and provide one of the recommended 'five a day' fruit and vegetables.

Prep Co. also taps into the trend for world food flavours with recipes from the Mediterranean, Mexico and South East Asia and includes Mediterranean Couscous, Thai Green Curry, Indian Spiced Lentils and Mexican Chilli Rice.

Lena Portchmouth, founder of Prep Co. and senior brand manager for snack foods at Unilever's business in the UK and Ireland, said: "The instant hot snack category is growing 11.9% year-on-year, with consumers seeking products that reflect the health and wellness trend as well as providing a fuss-free lunch to enjoy 'al desko'. So we identified a gap in the market for a healthier lunch option and developed the new Prep Co. brand."

Prep Co. has a RRP of GBP1.99.
In February, Unilever introduced into the UK a snack pot that leans on a popular dish in Ghana under the brand Red Red.
Samworth Brothers launches lower-calorie Ginsters slices
Ginsters of Cornwall, the savoury pastry brand owned by Samworth Brothers, is extending its range with new lower-calorie slices.
Saying it is acting in response to consumer demand, the company has produced the Ginsters Katsu Chicken Slice, which has 370 calories, and the Ginsters Piri Piri Chicken Slice, which contains 349 calories.
The Ginsters Katsu Chicken Slice is said to be a fragrant blend of coconut milk with spring onions and garlic in a Katsu curry sauce, made with 100% British chicken, while the Ginsters Piri Piri Chicken Slice contains chicken marinated with a spicy tomato sauce, smoked paprika, lemon zest and sun dried tomato puree.
Ginsters managing director Kieran Hemsworth said: "We appreciate that our customers want healthy options that still deliver maximum taste and flavour and we're determined to respond to this demand. We want to introduce food-to-go options that are totally delicious, can be enjoyed on-the-move or at home and contain only quality British produce with the added reassurance of our Cornish heritage".
The slices are available in selected supermarkets with a RRP of GBP1.70 (US$2.40).
Earlier this week, Samworth announced the launch of vegetarian varieties of its Ginsters range (see below)
UK yogurt company The Collective unveils kefir cultured milk drink range
UK yogurt company The Collective has launched a range of kefir cultured milk drinks.
The 500ml drinks are available in Natural, Mango 'n' Turmeric and Coconut 'n' Honey flavours.

Kefir has been linked for centuries with positive health and well-being. It is made by fermenting milk with live cultures, much like a traditional yogurt, but what sets kefir apart is the sheer number of live cultures.
The Collective's kefir boasts 13 different culture strains which result in 60-65bn of live cultures in each serving.
The company said its kefir is also naturally high in essential vitamins and minerals as a source of vitamin B2 and B12, calcium and protein.
It products are made using British milk and are vegetarian and gluten free.
Amelia Harvey, co-founder of The Collective, said 'We're so excited to launch our kefir range in the UK as we're big believers in the holistic health benefits of fermented food and are ready to take dairy to the next level with our kefir."
The range will be available across the UK from the end of April in Sainsbury's and from other retailers soon after. The RRP is GBP2.50 (US$3.55)

Nestle introduces ruby chocolate KitKat to the UK
Nestle is taking the ruby chocolate version of its four finger KitKat chocolate bar into its first European market.
Ruby is the fourth chocolate flavour after dark, milk and white. Nestle said it has an "intense berry-fruitiness taste" without the addition of any flavour or colour.
KitKat made with ruby chocolate was first introduced earlier this year in Japan and South Korea as KitKat Chocolatory Sublime Ruby.
Alex Gonnella, marketing director for Nestle's UK confectionery business, said: "We know that a new type of KitKat is a really big deal and we are very excited to be able to offer a different type of chocolate for KitKat fans to try.
Ruby chocolate was created by Swiss chocolatier Barry Callebaut which spent more than a decade developing the ingredient.
KitKat made with Ruby chocolate will be available in the UK at Tesco stores from 16 April.
Following the UK launch, the product will be introduced to consumers across Europe and the Americas, Nestle said.
PepsiCo launches Doritos crackers in Australia
PepsiCo has taken its Doritos snacks brand into crackers, launching the product in Australia.
Alison Silver, brand manager for Doritos in Australia, said the crackers were "an exciting way to attract a new consumer base to the biscuit category in the form of millennials", a consumer cohort she described as "the heartland of Doritos".
PepsiCo has developed four flavours: Cheese Supreme; Mexicana; Texan BBQ; and Sweet Chilli & Sour Cream. The US giant said all the flavours are "available nationally in grocery stores as well as petrol and convenience stores" from the middle of this month. They have a recommended retail price of AUD3.49 (US$2.70).
Unilever introduces US consumers to Hellman's ketchup
Unilever is launching ketchup in the US for the first time under its Hellmann's brand.
Hellman's Real Ketchup Sweetened only with Honey contains six ingredients: tomato puree, honey instead of high-fructose corn syrup, white wine vinegar, spices, onion powder and salt. It contains no artificial ingredients or preservatives and uses non-GMO sourced ingredients.
More accustomed to Hellmann's mayonnaise, US consumers can buy the new ketchup from retailers nationwide in 14-oz, 20-oz or 32-oz bottles.
Russel Lilly, marketing director of Hellmann's, said: "Over time, food has continued to evolve and it's time for ketchup to evolve too. We saw this as an opportunity to elevate an American staple by stripping it down to only the most essential ingredients. We're giving people a choice when it comes to feeding themselves and their families with a brand they know and trust."
Samworth Brothers adds vegetarian products to Ginsters range
UK food business Samworth Brothers has added vegetarian varieties to its Ginsters of Cornwall savoury pastry brand.
Saying that it is responding to the growing trend for vegetarian, food-to-go products, it has launched Moroccan Vegetable Pasty and Cornish Cheddar & Caramelised Onion Pasty products – both developed in conjunction with Cornish head chef Chris Eden.
The Ginsters Moroccan Vegetable Pasty combines a variety of ingredients, many of which are new to the Ginsters repertoire, such as butternut squash, chickpeas, roasted red piquillo peppers and red harissa paste
The spice comes from Moroccan chermoula paste containing cumin, paprika and cayenne pepper.
The Cheddar Cheese & Caramelised Onion Pasty is a blend of Cornish extra mature Cheddar, caramelised onions, spring onions and a wholegrain mustard.
Ginsters managing director Kieran Hemsworth said: "More than a third of evening meals now contain no meat at all and we're on a mission to respond to this consumer demand, introducing the latest food trends that deliver on maximum flavour as we continue to grow the food-to-go category."
The new pasties are available at "selected retailers" from today (9 April) with an RRP of GBP1.70 (US$2.40).