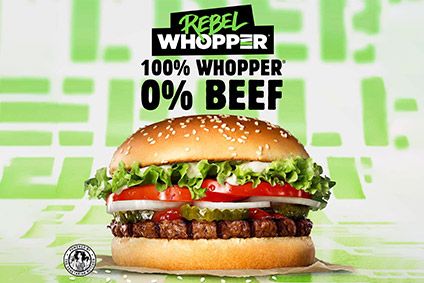 Anglo-Dutch consumer goods giant Unilever has won a lucrative foodservice deal which will see it supplying fast-food chain Burger King with plant-based burgers in Europe.
The Marmite and Colman's mustard manufacturer will make plant-based versions of Burger King's flagship Whopper burger under the terms of a deal inked with Burger King's parent Restaurant Brands International .
The new meat-free Whopper – called the Rebel Whopper – will be rolled out in 25 European countries with patties made by Unilever using the capabilities of The Vegetarian Butcher , the Netherlands-based meat-free brand it acquired last December.
The burger will be made available immediately in more than 2,500 Burger King outlets in countries including Germany, Spain, Poland and Italy in what will be one of the fast-food giant's largest ever product launches.
The companies said the Rebel Whopper has been in development for some time.
David Shear, president of Burger King EMEA, said: "We are confident that the Rebel Whopper is the sandwich everyone has been waiting for and provides the ultimate plant-based patty alternative with the iconic Whopper build. I'm excited to let the Rebel Whopper do the talking and see whether our guests can tell the difference."
Jaap Korteweg, founder of The Vegetarian Butcher said: "Working with Burger King on the Rebel Whopper has been amazing and we can't wait for all Burger King guests to enjoy it."