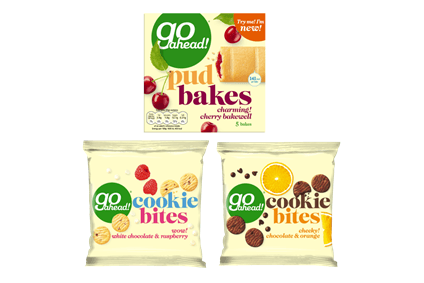 United Biscuits is continuing its new-product rollout offensive with its third UK launch in under a week.
The Yildiz Holding-owned baking and snacks firm is now taking its Go Ahead! brand into the bite-sized snacking sector.
The first product – Go Ahead! Cookie Bites – will be available in white chocolate and raspberry and chocolate and orange variants. The firm said: "The bitesize cookies appeal to the consumer trend of snack grazing offering a treat to enjoy throughout the day."
United Biscuits is also launching Pud Bakes under the Go Ahead! brand in a cherry bakewell flavour, with further range extensions to follow.
In a statement United Biscuits said: "The launches form part of a new strategy for UB's entire Go Ahead! portfolio, which focuses on driving brand reappraisal and encouraging uptake with a younger demographic. The new strategy centres on the insight that weight-conscious shoppers are still looking for satisfying snacks that they can enjoy without compromising on taste and flavour."
Go Ahead! Cookie Bites will be available at an RSP of GBP1.99 (US$2.88) for a bag of six. Go Ahead! Pud Bakes will be available at an RSP of GBP1.99 for a pack of five.
All three products will be available in grocery stores across the UK from 29 February.
Earlier this week, United Biscuits launched Trio and McVitie's Nibbles.