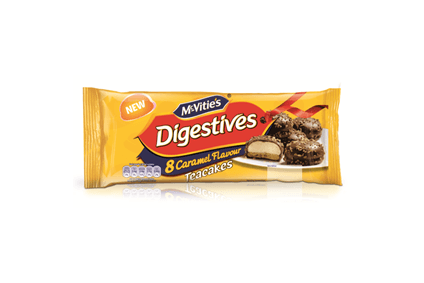 United Biscuits is expanding its McVitie's brand with the launch of a range of McVitie's Teacakes in two flavours.
The range sees UB extend further the McVitie's biscuit brand into the cake aisle. The line includes: McVitie's Digestives Caramel Teacakes and McVitie's Milk Chocolate Hobnobs Teacakes. Both products will be available in grocery and convenience channels with a suggested retail price of GBP1.65 (US$2.34).
UB said that it is forecasting "a high sales value" for the range and has seen a "strong initial response" from retailers. The launch will be supported by a promotional campaign designed to drive trial and uptake.
"We are extremely excited about the launch of McVitie's Teacakes which we feel offers a groundbreaking new product for our customers. We have already seen great success in past innovations where we have brought the well-loved taste of McVitie's products to the cake aisle in new formats, and are confident McVitie's Teacakes will prove a strong contender against existing ranges," Karyn Bryant, senior brand manager at McVitie's Cake Co. commented.