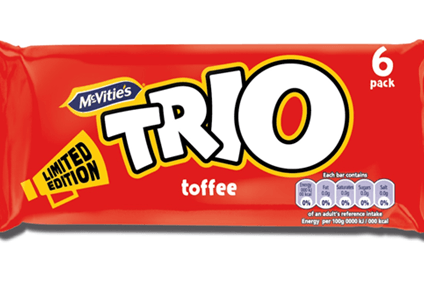 United Biscuits has relaunched UK chocolate biscuit bar brand Trio in its domestic market.
Trio will be back on UK supermarket shelves from 1 March. It will be available in multipacks of six.
A spokesperson for Yildiz Holding-owned United Biscuits told just-food the product was delisted and production stopped in 2003.
Sarah Heynen, marketing director of sweet biscuits at United Biscuits, said the company was bringing the brand back following requests from consumers.
"We simply couldn't ignore consumer calls to bring back what has been dubbed one of the most missed and popular biscuit brands. Insights have shown that the feeling of warmth towards this product has not faded as Trio's retro brand continues to evoke a powerful feeling of nostalgia, and we anticipate strong demand from consumers to see it on-shelf in their supermarket. We're also sure that Trio will also find a new fan base with those that didn't try it the first time around."
A multipack of six Trio bars will have an RSP of GBP1.29 (US$1.86).