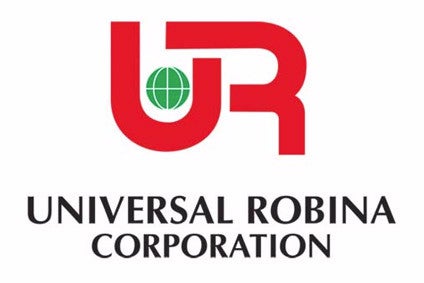 Philippines-based food and beverage group Universal Robina Corp. has booked an increase in annual earnings.
URC's consolidated net income in the year to 30 September amounted to PHP15.35bn (US$307.1m), over PHP12.5bn in the previous year. The increase was due to market valuation gain on financial assets and net foreign exchange gains, the company said. Net income attributable to equity holders of the parent increased by 7.1% to PHP12.38bn.
However, URC said operating income for the period dipped to PHP16.68 compared to PHP17.37bn in fiscal 2015. URC booked increased selling and distribution costs and general and administrative expenses.
EBITDA for the reporting period was PHP22.28bn, just above the PHP22.20bn posted in fiscal 2015.
Consolidated sales of goods and services were up 2.4% at of PHP111.63bn.
URC said sales from its branded consumer foods division, excluding its packaging arm, inched up 0.7% to PHP91.38bn. Domestic sales from the division grew 4% amid "double-digit" growth in sales of chocolate and noodles.
However, the division reported a 5.1% fall in international sales thanks to the claims of lead in some of the company's drinks products in Vietnam. In August, URC cut its forecasts for annual sales and operating profit due to the impact of the scare.
Sales from URC's two other divisions, its agro-industrial unit and its commodity foods arm, rose 2% and 21.1% respectively.
The company said in a statement it "intends to continuously introduce innovative new products, product variants and line extensions in the snack foods, beverage, and grocery products". "This fiscal year alone, the company's BCF Philippines has introduced 44 new products, which contributed 11% to its total sales," URC said.
In August, URC announced plans to buy Consolidated Snacks Pty Ltd, the company behind Snack Brands Australia.