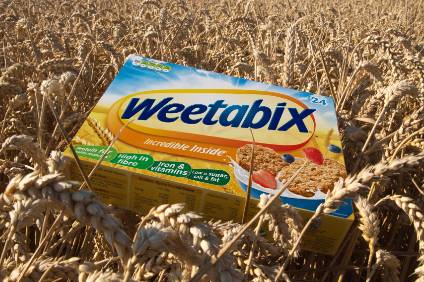 Post Holdings' takeover of Weetabix will provide the US group with more opportunities to make further acquisitions, its president and CEO Rob Vitale said today (18 April) after announcing the GBP1.4bn (US$1.79bn) purchase of the UK business.
Vitale said acquiring Weetabix gives the US breakfast cereal-to-sports nutrition group the "strategic optionality for future M&A in the UK and internationally".
Since Post Holdings was spun out of former US private-label business Ralcorp Holdings in 2012, the company has made a series of acquisitions, predominantly in its domestic market, including the US$1.15bn takeover of fellow US cereal business MOM Brands in 2015 and the $2.45bn purchase of US egg-to-dairy supplier Michael Foods in 2014. That same year, Post did snap up a more international set of assets with its acquisition of Nestle's PowerBar and Musashi sports nutrition brands.
However, Vitale today told analysts the move for Weetabix, which generates 15% of its sales in North America, "perfectly fits the bill" for Post's plans to grow outside the US.
"Over the years, we've frequently been asked about our plans for international expansion and our answer has been that we always wanted to make that leap through a transaction in which we would category knowledge and some North American connectivity. We consider this the best way to manage the natural risk of international expansion and Weetabix perfectly fits the bill for Post to grow internationally."
Asked to give more details on how Post believes Weetabix could provide it with a platform to make further acquisitions and what type of businesses could interest the company, Vitale said: "We tend to be opportunistic but also if you look at our behaviour since we added the Michael platform in 2014 we've been focused on strengthening our silos. If you look at product defining ou silos, we've been very focused on strengthening that. If you look at international as a new silo I guess you could argue that's a separate leg. The way to think about it is if we see something that is growing fast and makes sense to add as a silo, we would look at it – but given the challenge to find growth, we're far more likely to justify returns and the multiple required to acquire an asset by investing in something nearer into our portfolio where we have synergistic opportunity to deliver.
"I don't want to suggest we are focusing on the UK or other opportunities at the expense of US opportunities. What we ultimately are are opportunistic animals. This allows us to look at a broader array of opportunities and compare them to a different set."
Vitale, meanwhile, indicated which has been exporting brands including Grape-Nuts cereal into the UK, could look to launch more of its domestic products across the Atlantic. "We expect to approach the market from a more geographic rather than product focus, meaning we intend to add Post products to Weetabix over time. We have had good success in the US in both cereal and active nutrition and hope to replicate this success in the UK."
Post is buying Weetabix, which also owns the Alpen and Barbara's cereeal brands, from China's Bright Food, which holds a majority stake in the business, and minority investor Baring Private Equity Asia.
Post said it has "agreed in principle" to set up a venture with Bright Food and the Baring fund to run Weetabix's operations in China.
Bright Food acquired 60% of Weetabix from private-equity firm Lion Capital in 2012, with an eye on building the UK group's presence in Asia, particularly China. In 2015, Baring Private Equity Asia bought the remaining 40% Lion Capital held in Weetabix.
However, under Bright Food's majority ownership, turnover has shrunk, profitability has come under pressure and the UK remains the significant chunk of the business.
In the spotlight: Hard work ahead for new Weetabix owner Bright Food – just-food analysis from May 2012