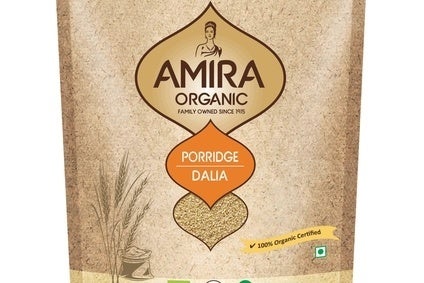 US-listed rice supplier Amira Nature Foods has described claims of corruption at the business as "malafide" and "fictitious".
Amira this afternoon (10 February) released a statement in an attempt to counter claims from financial research firm Prescience Point, which yesterday alleged the company's management breached listing rules by cooking the books and using company funds for "personal use".
The company, which sells branded and own-label rice products, said the report from Prescience Point contained "false, factually inaccurate and fictional content obtained from previously released false statements, that have been repackaged and distributed with malafide intention".
Amira said: "The author has released this report to clearly benefit themselves to gain monetarily from the subsequent decline in our share price, as already described by their own admission. They have entered a short position and timed this report with a clear purpose to mislead investors and the general public at a time when the company is marketing a major financing event. This flawed report is not in the interest of investors or the general public.
"This report is malafide and fictitious. ANFI categorically rejects and denies the many mischaracterisations and factually inaccurate statements put forth in the report that do not reflect reality. We intend to pursue this matter legally."
The report from Prescience, entitled A Collection of lies with leverage on top, suggested Amira is materially overstating its revenue.
"We came to estimate that a full 52.6% of ANFI's sales are suspect, indicating potential revenue overstatement of greater than 100%," Prescience Point said.
The researchers claim to have gained a "ballpark" indication of Amira's revenue overstatement by comparing claimed international basmati rice sales against official export data from India's Agricultural and Processed Food Products Export Development Authority for the same period, based on market share assumptions. "APEDA data for ANFI shows it is really producing only a fraction of the revenue reported to the SEC, in an of itself worthy of an SEC investigation."
Prescience Point also highlights Amira claims to be generating "the most revenue" of its peer group – KRBL, LT Foods and Kohlnoor – with the "least processing capacity". An unnamed KRBL executive is cited as having said: "At US$220m – that is 1,500 crores – Amira is reporting almost the same level of sales as KRBL, maybe a little more. But where are they selling? We have a 30% market share and they have less than 5% market share. Where are they selling?"
Prescience Point flagged concerns over Amira's profitability levels and also pointed to balance sheet issues it said could potentially point to problems with solvency.
Prescience Point believes that the company's management is compounding the issue with further "fraud" and the use of "shell entities". In particular, the firm points to the $30m purchase of land from Amira Enterprises Private Ltd. "We note that, per MCA records, 'Amira Enterprises Private Limited' is the former name for the entity Amira Enterprises Limited, the related party we discussed in the previous section. ANFI states the reason for the purchase is to take ownership of an 86 acre plot of land Amira Enterprises holds; oh, and by the way, most of the $30m will go directly to [chairman and CEO] Karan Chanana who owns Amira Enterprises through shell companies he set up that are owned by companies he owns… Land purchase appears an egregious transfer of wealth from shareholders to Chanana."
On Chanana, Prescience Point highlights concerns over remuneration and even cites a job advert for the chief executive's personal household staff. "The company seems to be paying for Karan's personal expenses in addition to the thumping package they are offering him."
Shareholder investigations have been launched by law firms including Rosen Law Firm and Pomerantz, with the potential that one or more class action lawsuits could be launched against the firm.
Shares in Amira slumped 25.75% in trading yesterday, slipping to $9.95 a share. By 12:00 ET today, the stock was down another 10.85% at $8.87.