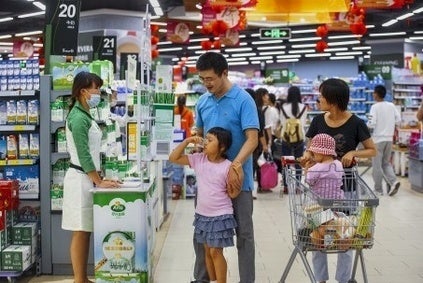 Arla Foods has revealed a target for sales of its consumer products in Asia to leap from EUR90m (US$104.5m) in 2014 to EUR1bn by 2020.
The dairy group has formed a business unit for its operations in Asia in a bid to grow across the region.
The unit, to be based in Kuala Lumpur, will draw up Arla's strategy for its consumer operations in Asia and oversee its partnership in China with local dairy processor Mengniu.
Through its work with Mengniu, Arla sells powdered milk, UHT milk and cheese from Europe. A spokesperson said Arla believed it could achieve half its sales target in Asia through growth in China, with the remainder coming from south-east Asia.
The spokesperson said Arla can use its presence and experience in China to help build on fledgling businesses in the wider region.
"Having now established a foundation in China, we see there's a lot of similarities we can now pursue, both in terms of products and consumer trends," a spokesperson told just-food. "We will continue to exploit and further develop the foundation we've established in China but we're going to now to try to use that as an entry into south-east Asia, which is seeing some of the most rapid growth rates in the food industry, including dairy. By moving our new Asia retail office to Kuala Lumpur, we're giving that region a much more strategic focus."
Arla's main office in Asia is its Chinese office in Beijing, which will remain open but will report into the site in the Malaysian capital, which will run operations in six other markets, including Indonesia, Myanmar and Japan.
The spokesperson said Arla would be ready to strike "partnerships" with local dairy companies, although he refused to be drawn on which markets the co-operative was prioritising or when the first deal could be made.
"We will be growing our business there both organically but also potentially through new partnerships in some of these markets," he said. "As with other any region that we approach with a strategic target to grow our business long term, we look at it with the intent of growing our sales organically – from products made in here in Europe – but many times it's best done by engaging with partnerships with local dairy companies. They could be distribution companies. Depending on the market, you will see Arla considering such options in south-east Asia. Whenever we have something to announce, we will be sure to let you know."
The Arla brand will be "key" to the co-op's growth ambitions, the spokesperson said, after years of "cleaning up" its local brand portfolio and investing in its namesake label. However, he said the group also sees "opportunities" for Lurpak butter and Castello cheese.