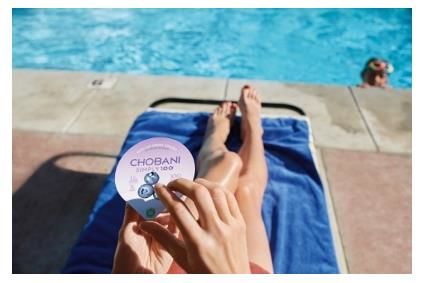 Danone has indicated it will "pursue all available avenues" to block rival Chobani's "misleading and deceptive marketing" after the US group launched an advertising campaign that highlighted the use of sweeteners in the companies' products.
An advert for Chobani's Simply 100 Greek yoghurt, launched on 6 January, focuses on the nutritional difference between natural and artificial sweeteners. The campaign says sucralose, an artificial sweetener found in Danone's Dannon Light & Fit Greek yoghurt on sale in the US, is processed with added chlorine, which Chobani argues prevents sucralose from being broken down into the body for energy. Chobani cites data from the US Food and Drug Administration to support its claim.
Legal representatives from The Dannon Co., Danone's US business, contacted Chobani insisting the campaign be pulled. Chobani promptly filed a suit with the New York District Court seeking a declaration its advertising is not "false, misleading, disparaging or deceptive". The suit also claims the US Department of Agriculture's nutrient database supports the company's claim the Simply 100 yoghurt contains "substantially less sugar" than regular yoghurt.
However, a spokesperson for Danone told just-food the company intends to continue to "pursue all available avenues" – including legal action – to "address Chobani's misleading and deceptive marketing".
"We believe in truthful and honest marketing and advertising, and we are therefore very disappointed that the Chobani campaign misleads and deceives the public about the healthfulness and safety of our Light & Fit brand.
"Like many reduced-calorie foods, Light & Fit Greek non-fat yoghurt contains sucralose, an FDA-approved ingredient that has been safely and widely used as a sweetener in foods for more than 15 years. The truth is, we carefully craft our recipes to make our products not only delicious, but nutritious too. Dannon is a beloved American brand and as a company we have always prioritised the health and safety of our consumers, and to suggest anything to the contrary is false and damaging."
Chobani's Simply 100 advertising campaign also takes aim at General Mills-owned yoghurt brand Yoplait.
During a second commercial, a voiceover says Yoplait Greek 100 "actually uses preservatives like potassium sorbate… That stuff is used to kill bugs."
A spokesperson for General Mills responded: "The statements made by Chobani in their latest attempt to sell more yoghurt are entirely misleading, and we don't think consumers appreciate that kind of approach."
When asked whether General Mills is considering taking steps to block the commercials, the spokesperson said the group has "nothing to add" at this time.
Chobani's ad taking aim at Danone's Light & Fit Greek Yoghurt
And its ad targeting Yoplait Greek 100
just-food has published research into the factors that will drive M&A in the food industry from now and into 2018.
The full report will be available from just-food in mid-February. However, those who take out an annual subscription to just-food before 31 January 2016, at a 35% discount on standard pricing, will receive free copies of both 'Drivers of Food Industry M&A' and another recent report, 'How Brands Can Win in Online Grocery', which was written by Professor David Hughes, Emeritus Professor of Food Marketing at Imperial College London and Miguel Flavián. To take advantage of this offer click here.