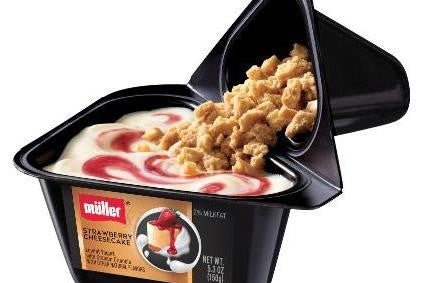 The end of Muller Quaker Dairy, the US yoghurt joint venture between PepsiCo and Muller, will result in the loss of 66 jobs.
The venture, which was launched in 2012, has sold its production facility in Batavia in New York state to US co-op Dairy Farmers of America for an undisclosed sum. The Muller brand will be withdrawn from the US market, the German yoghurt giant confirmed this morning (11 December).
A spokesperson for PepsiCo said DFA, the US's largest milk co-operative intends to "continue to invest in the community" and to "further expand their production and agricultural presence in the state".
On the job losses, the spokesperson continued: "We value the contributions of all employees and are working hard to minimize job losses as best we can. We are encouraged to know that Dairy Farmers of America, who have agreed to purchase the facility, have expressed interest in hiring several MQD employees."
PepsiCo said the decision to end the venture was "mutually agreed" after it was determined the business was "not meeting expectations" in a "competitive and dynamic marketplace". The sentiment echoed comments from Muller CEO Ronald Kers, who said feedback from customers was "very positive" but admitted the US business failed to develop "in line with our expectations" due to "extremely challenging market conditions".
For its part, the German group insisted it remains committed to international expansion and, on whether it would look to grow in the US, a spokesperson told just-food "never say never". Muller said that it plans to focus on integrating the Dairy Crest dairies business in the UK.