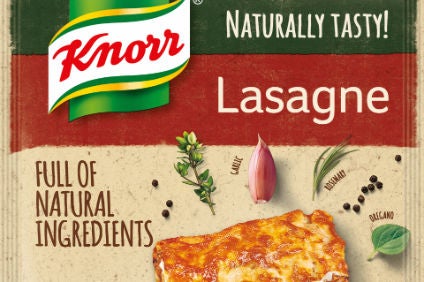 Unilever said today (6 October) it had decided to set up a new global food research and development centre in the Netherlands in order to "deliver disruptive innovation".
The Knorr and Magnum maker this afternoon outlined a plan to build a new facility in the Dutch town of Wageningen that would house the research and development functions at three sites elsewhere in Europe.
The move will ultimately lead to the closure of the other three locations – one in Vlaardingen, a town 100km further west in the Netherlands, a second in Heilbronn in Germany and a third in the Polish city of Poznan.
Unilever said it could benefit from a "foods innovation ecosystem" in Wageningen, where other food companies, including dairy giant Frieslandcampina, have research and development operations. The town also has a local university and research centre, as well as other scientific institutes.
"Vlaardingen is our key foods R&D and innovation centre but it is not centred within a global agri-food ecosystem and we need to consolidate in an ecosystem in order to deliver disruptive innovations," a Unilever spokesperson told just-food.
The site in Vlaardingen also carries research and development for Unilever's home and personal care operations, as well as its refreshment business, which houses its tea and ice cream brands. Unilever said the "R&D organisations" for those parts of its business will move to its other research and development sites in the UK that focus on those sectors. Unilever has a research and development site for its refreshment business at Colworth Science Park.
Unilever is proposing to move "all roles in R&D foods" that are based at the three sites to the new centre in Wageningen. The new facility, which under Unilever's plans will be up and running by April 2019, will "house approximately 550 roles", the Becel maker said.
Asked if the moves mean Unilever will cut any food research and development jobs, the spokesperson said: "Everybody whose role is moving to a different location inside or outside of his/hers current country, has the possibility to move with the role. In case that is not possible, our focus is on supporting you from work to work, either in or outside of Unilever. Based on previous experience with these kinds of changes, a number of roles are expected to become available in the new global foods innovation centre in Wageningen. Our intention is to offer those roles to people working in the affected sites."
Unilever's food business, which includes brands like Colman's mustard and Flora margarine, has been, in the main, the slowest-growing part of the consumer goods giant's portfolio for a number of years. Asked if cost reduction was a factor in the revamp, the spokesperson said: "R&D's mission is to build brands through benefit-led innovation, unlocked by science and technology. This is not only about what we deliver, but also about the way we innovate. The world around us is changing rapidly and we need the knowledge and expertise of external partners, for example, universities, suppliers, start-ups. This is the main driver. Furthermore, the site today is simply not fit-for-purpose: it is too big, housing too few people. It is also old, which means that the costs of maintenance are raising and it needs very high capital investment in the coming years."
Globally, two other Unilever research and development sites – in Bangalore in India and in Shanghai in China – also work on the company's food brands.
Unilever is consulting with staff on the move. It said the building of the new centre in Wageningen would only start once the consultation process was completed. "We expect the total project to be finalised by the second quarter of 2019," it added in today's statement.