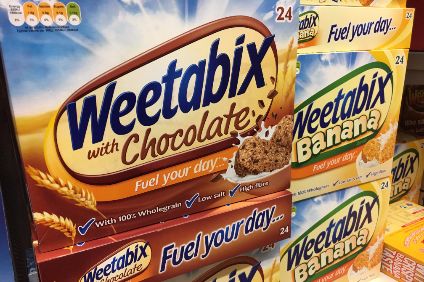 Post Holdings, the US group behind breakfast cereal brands Grape-Nuts and Honey Bunches of Oats, this morning (18 April) confirmed it has struck a deal to buy UK business Weetabix in a deal worth GBP1.4bn (US$1.76bn).
The transaction sees Post buy 100% of Weetabix from its two investors – Chinese state-backed majority shareholder Bright Food Group and an investment fund advised by Baring Private Equity Asia .
Post said it has "agreed in principle" to set up a venture with Bright Food and the Baring fund to run Weetabix's operations in China.
"We have long admired Weetabix as a leader in cereal and believe it will be a fantastic strategic fit within Post," Rob Vitale, Post's president and CEO, said. "Combining together two category leaders continues our strategy of strengthening our portfolio in stable categories and diversifying into new markets, bringing much-loved brands to significantly more customers globally. We are excited about the growth opportunities that this acquisition brings."
The bulk of Post's business, which includes brands in sectors including chilled food and sports nutrition, is generated in North America.
In a statement, Post said the acquisition of Weetabix "creates a diversified international food company with substantial free cash flow generation", which it claimed would enable it "to fund growth over the long-term, including international cross-selling opportunities through expansion of Post products in select international markets and further expansion of Weetabix and Barbara's in North America".
Post said its management expects Weetabix to contribute around GBP120m of adjusted EBITDA on an annual basis before the realisation of cost synergies. The company estimates it can generate synergies of around GBP20m a year by the third full fiscal year after the deal closes. It pointed to "benefits of scale, shared administrative services and infrastructure optimisation and rationalisation".
Post said it expects the deal to be "immediately accretive" to its adjusted EBITDA margins and free cash flow, excluding one-time transaction expenses.
The transaction is expected to be completed in the third calendar quarter, which is the fourth quarter of Post's financial year, subject to the satisfaction of "limited closing conditions, including the expiration of waiting periods under US antitrust laws".