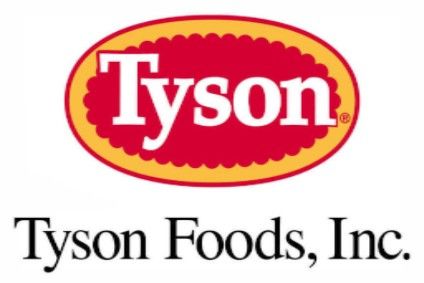 Shares in Tyson Foods tumbled today (6 February) after the US meat giant revealed it had received a subpoena from the US Securities and Exchange Commission.
In Tyson's 10-Q filing with the SEC, the Jimmy Dean and Hillshire Farm owner said the subpoena was "in connection with an investigation related to the company". Tyson added: "We are cooperating with the investigation, which is at an early stage. Based upon the limited information we have, we believe the investigation is based upon the allegations in In re Broiler Chicken Antitrust Litigation."
In September, US distributor Maplevale Farms alleged 14 companies, including Tyson, had "conspired and combined to fix, raise, maintain, and stabilise the price of broilers" from as early as January 2008. After the lawsuit was filed, more complaints were filed. Judges then consolidated the suits into three actions.
Tyson has dismissed the claims. The company made no further comment on the subpoena in today's conference call with analysts to discuss its first-quarter results.
Shares in Tyson were down 3.4% at $63.17 at 15:54 ET. Tyson's shares had risen in pre-market trading, helped initially by the positive reaction to the company upping its forecast for annual earnings per share.